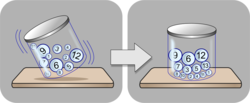 A simulation environment is meant to reproduce the dynamics of a complex process to generate insights into decision alternatives, while optimization helps decide on options that minimize or maximize the outcome after it is a well-defined model.
Houston, TX (PRWEB) December 23, 2011
Leandro Caniglia, Ph.D. provided new insight into the relationship between optimization and simulation of exploration and production (E&P) projects in the oil and gas industry with his presentation "Simulated Annealing" at the 19th Annual International Smalltalk Conference in Edinburgh, sponsored by the European Smalltalk User Group (ESUG).
"One of our challenges in exploration and production decision making is how to describe PetroVR software as a simulation environment, especially to new users who are primarily seeking an optimization tool," summarized Caniglia at the presentation.
Leandro Caniglia is chief technologist and director of software development for Caesar Systems, LLC and its decision making software product PetroVR, which is based on the Smalltalk programming platform.
Before selecting a preference, understand the differences
In his presentation, Leandro Caniglia differentiated optimization algorithms in exploration and production projects from the PetroVR simulation environment: "A simulation environment is meant to reproduce the dynamics of a complex process to generate insights into decision alternatives, while the optimization algorithms help decide on the specific options that minimize or maximize the outcome after it is a well-defined model," said Caniglia. "In other words, before selecting a preference, it is helpful to know the principal differences you are dealing with," Caniglia added.
Simulated annealing is well understood in thermodynamics. It was chosen for this year's presentation to the ESUG International Smalltalk Conference because it is frequently applied to a widely known optimization problem, the so-called Traveling Salesman problem, which is inherently hard, yet simple to visualize: given a number of destination cities (usually 25) find the shortest pathway that connects all of them. This problem grows exponentially with the number of cities and quickly requires billions of hours of computer runtime over an increasing number of years to solve.
Leandro Caniglia has expanded on his presentation "Simulated Annealing" in the PetroVR Blog, providing further insight into how the equations of simulated annealing help oil and gas companies solve inherently hard exploration and production problems, including these highlights:

Some hydrocarbon exploration and production optimization problems are complex, where a deterministic answer cannot be reached with confidence, such as finding Correlation Coefficients
In these complex problems, uncertain quantities are not always independent, such as the variables that define the Initial Rate and Reserves of an oil or gas well
Correlating two random variables in this type of hydrocarbon exploration and production problem can require billions of iterations, such as by sampling the variables, and then rearranging the samples in order to approach the desired Correlation Coefficient
PetroVR performs this process using simulated annealing, which is so efficient that it takes only a few milliseconds to complete, compared to the years it would take using algebraic equations
Read the complete simulated annealing description in the PetroVR Blog
PetroVR provides a fully-integrated simulation platform for petroleum exploration and production planning and decision making. While PetroVR takes advantage of simulated annealing equations when a simple mathematical equation is not feasible, the aim of PetroVR is to provide a decision making platform that combines a simulation environment with optimization tools.
Caesar Systems introduced Petroleum Ventures and Risk (PetroVR) decision making software in 1997 and has positioned it to become the industry standard for petroleum exploration and production planning worldwide. It is the only fully-integrative software suite for E&P development planning that supports risk and uncertainty modeling for the entire opportunity lifecycle, from sub-surface reservoir to surface infrastructure to economics.
In addition to its selection by the U.S. Department of the Interior, Bureau of Ocean Energy, Management, Regulation and Enforcement (BOEMRE), formerly the MMS, PetroVR decision making software has been chosen by more than 25 oil and gas companies since 1997, including BHP Billiton, BP, Chevron, Maersk, Murphy Oil, Shell, Talisman and Total.
Find more information about PetroVR decision making software at http://blog.caesarsystems.com. PetroVR is a Registered Trademark of Caesar Systems, LLC.
Caniglia joined Caesar Systems in 2001 and serves as chief technologist and director of software development. For more than a decade prior to joining Caesar Systems, Caniglia worked as a Smalltalk consultant for several companies in Argentina, Brazil and Chile. He was professor at the University of Buenos Aires for more than 20 years. Caniglia also has worked as a researcher in the CONICET, the official office for scientific research in Argentina. In 1997, he founded the user group SUGAR. He has a Ph.D. in Mathematics and has published extensively on Computational Algebraic Geometry. In 2007 Caniglia became president of FAST, the organizing board for the Annual Argentine Smalltalk Conference.
Headquartered in Houston, Caesar Systems empowers E&P companies to accelerate to first production with decision assurance, through its PetroVR software suite, backed by global coaching and support services.
Caesar Systems is led by an experienced team of oil and gas and software professionals at offices located in Houston, Texas; Buenos Aires, Argentina; and Paris, France. For more information about Caesar Systems, please contact Victor Koosh, chief executive officer, at 281/598-8790 or visit http://www.caesarsystems.com.
###