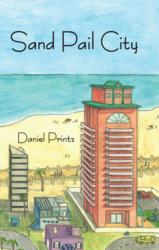 [Sand Pail City] is] ... an extraordinary, multi-faceted story of good v. evil, righteous v. self-righteous, and greed v. community… Best-selling author Peter Thomas Senese
Roanoke, VA (PRWEB) December 22, 2011
Out In Left Publishing has just released its new novel, "Sand Pail City" (ISBN-10: 098-3289212) from author Daniel Printz.
"Sand Pail City" tells the story of what was once a small and quaint Florida fishing village, until its mayor, Marshall Brickman, turned it into a sprawling strand of pricy, high-rise condominiums and upscale shops in the 1980s.
At the center of the story is Dusty Johnson, a young man who bears a striking resemblance to Bill Holly, an outspoken community leader and fisherman who diligently fought to stop Brickman's entrepreneurial conquests. Holly was mysteriously killed in a boat fire and many citizens secretly blamed Brickman's "mafia-esque" partners.
Dusty relocates to Sand Pail City and as some of the older residents meet him, they begin to believe that he is the long-lost son of Holly. As a result, a series of events unfolds, thrusting Brickman against his partners and some of the hostile locals.
Brickman desperately attempts to redeem himself by taking Dusty under his wing. However, he cannot stop his dreams and aspirations from unraveling before his eyes.
"Multi-faceted" is how Jill Allen from "ForeWord Clarion Reviews" refers to "Sand Pail City."
She says that "The characters themselves are not just one-dimensional heroes or villains. Printz expertly creates a unique town and citizens without making the village or its citizens fall victim to tired tropes. With a well-paced plot and meticulously punctuated text, readers will enjoy the trip to 'Sand Pail City.'"
Best-selling author Peter Thomas Senese calls it "an extraordinary, multi-faceted story of good v. evil, righteous v. self-righteous, and greed v. community…'Sand Pail City' moved me deeply and is a story I will cherish."
"Sand Pail City" is 320 pages. Paperback ($14.95) and e-book ($5.99) versions are available on Amazon. The Nook version is available on the Barnes & Noble website.
Printz is currently finishing a new novel, "Half Empty" that will be released early next year.
# # #