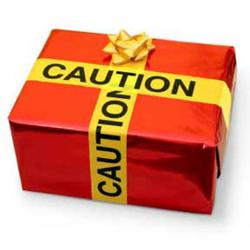 People need to remember to be extra careful during all of the activity and distraction of the holiday season...
Neptune, NJ (PRWEB) December 23, 2011
Christmas trees, candles and many other traditional items adorn virtually every home during the holidays. These festive decorations are beautiful, but they can also become a serious fire hazard when used incorrectly. All Hands Fire Equipment, an online supplier of fire extinguishers, fire helmets and other fire safety products, offers the following tips to help avoid the potential fire risks that holiday decorations may pose.
It may seem obvious, but when selecting a Christmas tree it is best to select one that is very fresh and green. An old, dry tree can catch fire more easily than a fresh one. When placing the tree in the home, it should not be anywhere near a heat source such as a fireplace or space heater. Watering the tree frequently to keep it from becoming dry for as long as possible is very important to remember.
Decorative holiday lights should be inspected before use to ensure that the wire is in good condition. Lights that have cracks, kinks, wear, or bare spots on the wire should be disposed. It is important to inspect each socket of the string lights to make sure that no sockets are cracked or broken, and that each one contains a bulb. Open sockets are considered a fire hazard and can cause injury when handled. Only lights that have been listed by an approved testing laboratory such as UL should be used. Following the manufacturer's recommendations for use and avoiding the overload any outlet. Should not be overlooked. As beautiful as they are, resisting the temptation to leave lights on all the time should be seriously considered. Holiday lights should always be turned off when they will be unattended.
Keeping all gifts, decorations and other combustible materials away from heaters and other warming devices is advised. As always, lit candles should be handled with caution and kept in a secure holder on a stable surface . Unattended lit candles are a serious accident waiting to happen.
Home fire prevention supplies and professional safety gear are available at All Hands Fire year round as they are a leading supplier of firefighter boots, fall protection equipment, firefighter escape systems and other fire equipment. All Hands Fire Equipment's President Don Colarusso has been a firefighter for over 23 years and has weighed in on the issue of Holiday fire safety, "Fire safety in the home starts with awareness of potential hazards. Even though a lot of it seems like common sense, people need to remember to be extra careful during all of the activity and distraction of the holiday season."
Remembering to have operational smoke alarms, carbon monoxide detectors and fire extinguishers properly installed in the home is especially important this time of year. Following these safety tips can help keep this Holiday Season memorable for the right reasons and keep loved ones safe during this special time of year.
###