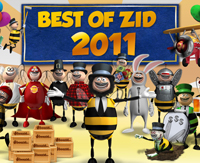 We have had such a great year getting to know our members, and we have worked very hard to respond to their requests.
New York, New York (PRWEB) December 23, 2011
Due to the amazing response Beezid has received from their members regarding their many promotional events this year, Beezid will be holding one final year-end blowout with three events over a four-day period, lasting from December 28th to 31st with a total of 72 hours of Beezid members' favorite promotions.
The promotion begins on Wednesday, December 28th at exactly 12:00AM EST with 24 hours of risk-free bidding and a 10% price freeze on all auction items. For all items whose auction time falls within that time period, members will receive their bids back when the auction closes, and the savings are guaranteed at 90-99%.
The second part of the event begins on December 29th at 9:00AM EST at which time Beezid will begin auctioning off 500 items in a 24-hour period. Beezid members were treated to this same promotion on Cyber Monday of 2011 and the feedback was overwhelmingly positive.
"We have had such a great year getting to know our members, and we have worked very hard to respond to their requests, especially when it comes to our promotional events," said Max Bohbot, CEO of Beezid. "Throughout the year we have gotten some really great feedback from our members, and based on what they enjoyed most this year, we felt it was appropriate to wrap up this year with the promotions that helped our customers save the most, and that they enjoyed the most."
The last day of the event begins on Friday, December 30th at 12:00PM EST when all prices on every auction will be frozen at 1% of their MSRP, guaranteeing Beezid members savings of at least 99% on every auction for the ensuing 24 hours.
About BEEZID.com
BEEZID.com is a top rated penny auction website which offers a thrilling spin on online auction shopping and one of the most frequently visited and most-trusted sites of its kind world-wide.. Since its launch in 2009, Beezid.com has become the leading online auction site for consumers to get top products for up to 99% off the retail price daily in a fun, safe and secure online environment. Users take advantage of huge discounts on brand new, brand name products by forming bidding strategies and by using bonuses and incentives offered by Beezid.
There's never been a better time to try out Beezid. New users get 10 free bids as soon as they sign up and users can always take advantage of promotions on Twitter and Beezid's popular Facebook page. Join more than 50,000 users who Like Beezid to enjoy huge savings!
# # #