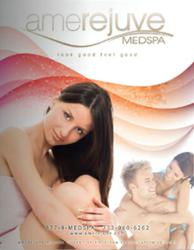 Buy 4 for Price of 1! Laser Hair Removal and BOTOX
Houston, Texas (PRWEB) December 23, 2011
Houston's number one Laser Hair Removal Center, Amerejuve Medspa, which provides a variety of state-of-the-art non-surgical, cosmetic and skin rejuvenation treatments for men and women, has announced super special pricing for the 2011 Holiday Season – buy 4 laser hair removal packages for the price of 1!
Amerejuve is offering its Laser Hair Removal services for the never-before-heard-of price of 4 packages for the price of 1. Also available for a limited time only is BOTOX for $10 per unit.
Amerejuve has four locations in the Greater Houston Area: Amerejuve Galleria ( 2800 Sage Road, Suite A-200, Houston, TX ), Amerejuve Sugar Land ( 2507 Williams Trace Blvd., Suite 102, Sugar Land, TX ), Amerejuve Katy ( LaCenterra at Cinco Ranch, Katy, TX ) and Amerejuve Clear Lake ( 711 West Bay Area Blvd., Webster, TX ). The phone number for all locations is (713) 960-6262.
Staffed by teams of licensed healthcare and aesthetic professionals, each Amerejuve Medspa center offers clients non-invasive, non-surgical treatments incorporating the latest technologies for laser hair removal as well as procedures which reduce frown lines and wrinkles, shape facial contours, sculpt lips and restore a smoother appearance to the face.
Each Amerejuve Medspa also offers VelaShape™, the only FDA-approved device that effectively and safely contours, shapes and slims the body by reducing cellulite and firming problem areas in as few as four treatments. Other non-surgical Medspa treatments offered at Amerejuve produce younger, healthier-looking skin or rid skin of acne scars, fine wrinkles and sunspots. Clients also can choose from several facial treatment options to cleanse, exfoliate and nourish one's skin.
Each Amerejuve Medspa also is partnered with RedCircle (http://www.myredcircle.com), a seven-component, personalized weight management program tailored towards one's unique metabolism, genetic make-up and cardiometabolic profile. More than a diet program, RedCircle is a wellness plan designed to boost metabolism and energy while allowing the individual to lose weight and improve cardiovascular health.
To schedule a free consultation at any of the four Amerejuve locations in the Greater Houston area, call (713) 960-6262. For a complete list of services, visit http://www.amerejuve.com.
View Amerejuve's TV commercial featuring Dana Tyson, Sunny 99.1 FM!
About Amerejuve:
Amerejuve was founded in 2008 as the precursor of American Rejuvenation Centers. Amerejuve is dedicated to providing clients with state-of-the-art age management products and services. The initial focus of the company was on non-surgical treatments for cosmetic and skin rejuvenation. Exciting new services are continually being added to our menu. In 2010, Amerejuve introduced REDCIRCLE®, an exclusive, metabolism-based, personalized weight management program.
Email: contact(at)amerejuve(dot)com
###