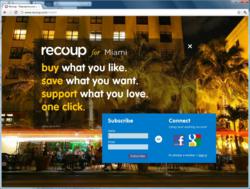 We are excited to establish Recoup's presence in the Miami market and we plan to expand to other cities in Florida very quickly...
Washington, DC and Miami, FL (PRWEB) December 23, 2011
Recoup (http://www.recoup.com), the first cause shopping channel, announced today that it is opening for business in Miami through the takeover of Joia Guide (http://www.joiaguide.com). Recoup's innovative business model blends commerce and philanthropy in a powerful way that benefits businesses, nonprofits and people. The Joia Miami team will bring high quality dining and lifestyle local businesses and consumers specific to Miami to the Recoup model. Joia Miami is known for its annual high quality dining and lifestyle printed guidebook with detachable Joia Checks that provided valuable offers to consumers. Now, Joia Miami will become Recoup, and provide the opportunity to purchase rewarding promotions that give back to the community.
Through Recoup, businesses empower their customers to purchase a promotion on a product or service, make a tax-deductible contribution by donating part (or all!) of the savings to a charity of choice, and have their donations matched by a sponsor—all in one transaction. Prior to launch, Recoup has already forged relationships with 90+ national and local nonprofits such as American Forests, Kids in Distressed Situations (K.I.D.S.), Ovarian Cancer National Alliance, Rock the Vote, HOPE International, Luke's Wings, The Point Foundation, and Peace Players International, among others.
"We are excited to establish our presence in the Miami market and we plan to expand to other cities in Florida very quickly," said Luca Pivato, Co-Founder and CEO of Recoup. "This deal is another step into executing our plan and continuing the expansion of the Recoup brand nationwide. Recoup's business model is designed to create and enhance brand favorability and is not a means to drive flash sales that diminish customer loyalty. Recoup promotions are converted into donation opportunities that connect businesses to people through causes they choose to support."
How does Recoup work? The Technical Details

Recoup works with merchants to pair a promotion with a default cause suggested by the business. A promotion can be simultaneously paired with different organizations in different states.
Recoup tells its subscribers and its nonprofit partners about the promotion. Businesses can also advertise their new cause promotions online.
Users and nonprofits can create an "instant fundraiser" by "flipping" the promotion to benefit their own personally-relevant cause and inviting their friends and supporters to participate.
Buyers have the opportunity to increase the guaranteed donation by converting part or all of the discount value into a tax-deductible contribution —even though they ultimately receive goods or services worth as much or more than they paid.
Matching sponsors agree to double, triple, or quadruple donations made to an organization of their choosing, dramatically amplifying the social effect.
All of this happens in a simple online transaction.
About Recoup
Recoup is the first cause shopping channel where millions of people support causes they care about by connecting with merchants to buy brands that want to do good. Our innovative and patent-pending system empowers customers to choose which organizations they want to support, how much of their discount they want to give as a tax deductible contribution, have their donations multiplied by a matching sponsor, and invite their friends to join instant fundraisers - all through a single point of sale. More information can be found at: http://www.recoup.com.
# # #