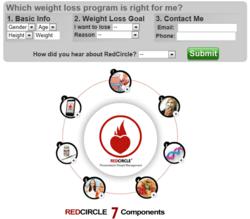 Get Started on New Year's Resolution "Lose Weight Feel Great"
Houston, Texas (PRWEB) December 23, 2011
RedCircle Personalized Weight Management Inc., a subsidiary of American Rejuvenation Centers, announced special pricing during this Holiday Season to encourage overweight or obese individuals to stop delaying and to commit today to active participation in a comprehensive weight management program. All RedCircle packages have been discounted 25-50%! To take advantage of this offer, the initial (free) consultation must be performed before January 14, 2012. Call 713-781-7332 to schedule an appointment.
Unlike Atkins, Weight Watchers, South Beach, Jenny Craig, and other commercial diet programs which are "one size fits all" and are limited to reducing dietary intake, RedCircle is a comprehensive personalized weight management program based on an individual's resting metabolism, genetic blueprint, activity level, and cardiometabolic status. The RedCircle program is comprised of 7 scientifically proven components: 1) Baseline Assessment, 2) Cardiometabolic Profiling, 3) Genetic Profiling, 4) Meal Planning, 5) Personal Training, 6) Metabolic Supplements, and 7) e-Coaching.
Cutting edge metabolic and cardiovascular function tests, as well as advanced blood tests, are performed to ensure a thorough analysis and personalized management.
Part of RedCircle's unique approach to personalized weight management is the detection of genetic polymorphisms that affect the molecular pathways involved in energy storage and weight control. Unlike other programs that apply the same calorie restriction to all even though no two people have the same metabolism, RedCircle takes the guesswork out of the equation.
"By combining FDA approved metabolic measurement techniques and advanced laboratory analysis with genetic profiling, we design programs uniquely suited to each individual," said Sepand Moshiri, chief operating officer of RedCircle.
"In addition to personalized calorie budgeting, meal planning, physical training, and proprietary metabolic supplements, RedCircle's innovative e-Coaching platform provides the indispensable monitoring and support necessary to overcome the challenges of the initial weight loss and a solution to the greater problem of maintaining your ideal weight," Moshiri added.
RedCircle Personalized Weight Management Inc. is a subsidiary of American Rejuvenation Centers headquartered in Houston.
In addition to its main facility in the Galleria area on Richmond Ave. alongside its partner, One2One gym, RedCircle serves clients through the satellite offices of Amerejuve, the esthetic subsidiary of the parent company American Rejuvenation Centers, at the following locations:
Amerejuve Galleria ( 2800 Sage Road, Suite A-200, Houston, TX ), Amerejuve Sugar Land ( 2507 Williams Trace Blvd., Suite 102, Sugar Land, TX ), Amerejuve Katy ( LaCenterra at Cinco Ranch, Katy, TX ) and Amerejuve Clear Lake ( 711 West Bay Area Blvd., Webster, TX ).
The main RedCircle facility is open: Monday through Friday, 9 AM – 6 PM. Saturday, 9 AM – 4 PM. Walk-ins are welcomed.
About RedCircle Personalized Weight Management:
Supported by cutting edge medical technology and distinguished doctors, RedCircle is a revolutionary Personalized Weight Management Program based on your genetic blueprint and metabolism, unlike the "one size fits all" programs in the weight loss and fitness industry,
For more information on RedCircle please visit http://www.myredcircle.com or call 713-781-7332.
# # #