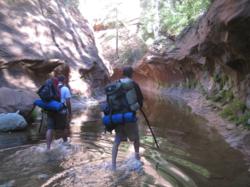 I never knew I had it in me! To accomplish something like this...
Scottsdale, AZ (PRWEB) December 25, 2011
Back 2 Basics, a long term drug and alcohol drug rehab for young men is treating addicts that have historically needed more than a 30 day treatment center. Studies show that addicts and alcoholics have a higher success rate the longer they are in treatment. Here is the story of how Back 2 Basics is giving young men skills they can use for the rest of their lives.
Young addicts and alcoholics do not always have the life skills to get them to the next stage of their life after treatment. Traditional 30 day treatment centers are usually a good start, but are statistically not enough.
Back 2 Basics implemented a new curriculum that employs the young men through a series of internships. The latest project and the purpose of this release is that Back 2 Basics had seasoned roof installers instruct the residents of Back 2 Basics on how to get their hands dirty and work on a roof.
After going through a resume' building process and job application process through Back 2 Basics a group of young men started on a two week long roofing job. " I never knew I had it in me! To accomplish something like this." One of the residents stated.
After two weeks, in the cold and working five to eight hours a day, the residents with staff supervision successfully installed an entire roof on a house.
Back 2 Basics believes that by giving these young men life skills, they will be that more likely to have successful and prosperous lives.
Back 2 Basics is one of the nation's best long term addiction treatment centers for young adults while implementing a new perspective on how to treat young college students suffering from addiction.
# # #