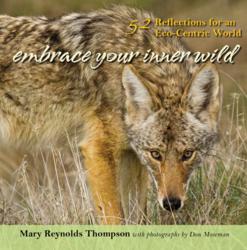 This is a book of astonishment, reverence, and freedom. Jane Hirschfield
Ashland, Oregon (PRWEB) December 23, 2011
With intimate animal photographs by Don Moseman and original, inspirational reflections by Mary Reynolds Thompson, "Embrace Your Inner Wild: 52 Reflections for an Eco-Centric World" is a new book that celebrates the healing power, timeless wisdom, and unparalleled beauty of Nature. It mixes the poetic with the provocative, calling people forth to protect the wild – in their world and in their spirit.
The book has just been released by White Cloud Press of Ashland, Oregon.
Walking Free and Living Sober
Moseman and Reynolds Thompson met through their shared journey in recovering from addiction. Since getting sober in 1983, the natural world has been Reynolds Thompson's guide, helping her to discover her own Inner Wild in a healthy way.
Moseman believes that "A sense of belonging in the outdoors is vital." Moseman spent 35 years in San Quentin. "I'd look out at Mount Tamalpais through the bars of San Quentin State Prison and promise myself I'd walk to the top when I got out." He did . . . and he never stopped walking. Moseman crossed America on foot three times, earning the nickname "Walkin' Don." Today, Moseman walks closer to home, traversing the trails of Marin County in search of the next wild encounter and the next breathtaking photo. "If we bring up our kids in a world of concrete, we're helping them to feel more at home in the jail," he says.
Into the Wild
"We created 'Embrace Your Inner Wild' to foster a love of the earth, its inhabitants, and the wild soul in each of us that longs to be set free," says Reynolds Thompson. "The goal of the book is to delight, but also open the door to the mystery and majesty of the non-human world." The imagery and text allow anyone who reads it to experience a profound connection to Nature.
"Embrace Your Inner Wild" is not about seeing Nature as a separate realm says Reynolds Thompson. "It's about reclaiming an ancient vision of our selves as an integral part of a larger earth community," she explains.
The book is already gaining advance praise and fervent admirers. Nina Simons, co-founder of Bioneers Conference calls the book "a celebration of nature's medicine, wisdom and unparalleled beauty. Reading it fills my heart with awe and desire to do more to serve Earth's web of creation. It's a great gift to nourish the heart and spirit of anyone who loves the natural world."
The Magic of an Eco-Centric World
"Embrace Your Inner Wild" awakens readers to both to a sense of wonder and a sense of oneness. It invites them to move from the concrete jungle of human landscapes into the wild, into what Reynolds Thompson calls "eco-centricity." The book underscores the 'magic' that happens when people revere wild spaces and their inhabitants and provides a one-of-a-kind look into the inter-connected community of life. The inspiration for the lushly photographed book was Marin County in California, known for its pristine beauty and the preservation efforts of its inhabitants.
Moseman's photographs capture rainbows and waterfalls, as well as up-close-and-personal portraits of geese in flight, coyotes, osprey, hummingbirds in their nest, bobcats, dragonflies, and other creatures in the wild. Frederic Larson, award-winning "San Francisco Chronicle" photographer, observes that "Don Moseman has the uncanny ability to be at the right place at the right time. He captures peak moments, for which only a few top shooters working for 'National Geographic' have bragging rights."
Alan Fish, director of the Golden Gate Observatory notes that, "If this book doesn't set your feet in motion for the trail, nothing will."
Publication information:
Embrace Your Inner Wild: 52 Reflections for An Eco-Centric World
Written by Mary Reynolds Thompson, Photography by Don Moseman
ISBN: 978-1-935952-53-4
Original Trade Paperback / $16.95 / 128 pages
Published by White Cloud Press, Ashland, Oregon
Distribution: Publishers Group West/Perseus Book Group
###