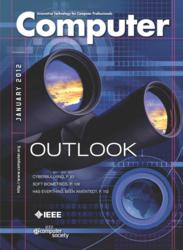 Computer magazine covers all aspects of computer science.
Los Alamitos, California (PRWEB) December 26, 2011
Computer magazine's Outlook Issue is now available in advanced digital format. In the annual issue, renowned researchers from leading educational institutions such as Massachusetts Institute of Technology and University of California Berkeley and top tech companies like Google and Microsoft explore the critical issues facing computing today.
MacArthur grant recipient Dawn Song and two UC Berkeley computer science colleagues join Umesh Shankar, a Google senior staff engineer, in addressing the troubling issue of cloud computing security. Their article, "Cloud Data Protection for the Masses," describes an innovative data-protection-as-a-service cloud platform architecture that has the potential to be extended to a wide range of applications.
In his "Software Development for Infrastructure" article, Bjarne Stroustroup, inventor of the programming language C++, argues for more stringent correctness, reliability, efficiency, and maintainability requirements for software development. The need is critical, Stroustroup argues, since we're surrounded by systems whose failure can result in severe physical or economic injury.
Alex Pentland, director of MIT's Human Dynamics Laboratory, explores the balancing act between creating pervasive sensing and mobile computing systems to serve our needs and the broad use of data to support those systems.
Daniel A. Reed, Microsoft corporate vice president for technology policy, joins Dennis Gannon, director of Microsoft's Cloud Computing Research Engagement project, and James R. Larus, director of the Microsoft Research eXtreme Computing group, in discussing how advancement is creating both technical challenges and opportunities to address important societal issues. "Imagining the Future: Thoughts on Computing" offers an overview of where computing is heading, and how these changes will affect the research-and-development community, the educational system, and the workforce.
An annual subscription to the advanced digital version of Computer—complete with supplemental audio, video, and Web extras to broaden your understanding of key concepts—is available for $29.95 for 12 issues, or $5 per issue. Visit http://www.computer.org/digitaleditions to find out more.
The new digital version of Computer will allow for anytime, anywhere access; easy search capability to get you quickly where you want to go; and digital archive access to let you quickly peruse past issues.
Computer magazine covers all aspects of computer science. For more than 40 years, developers, researchers, and managers have relied on the magazine for timely, peer-reviewed information about research, trends, best practices, and changes in the profession.
Four other IEEE Computer Society technical magazines are available in digital format: IEEE Software, IEEE Security & Privacy, IEEE IT Pro, and IEEE Internet Computing. Visit http://www.computer.org/digitaleditions to subscribe.
About the IEEE Computer Society
With nearly 85,000 members, the IEEE Computer Society is the world's leading organization of computing professionals. Founded in 1946, and the largest of the 38 societies of the Institute of Electrical and Electronics Engineers (IEEE), the Computer Society is dedicated to advancing the theory and application of computer and information-processing technology, and is known globally for its computing standards activities. For more information, go to http://www.computer.org.
# # #