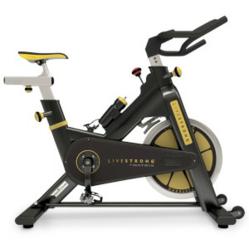 "We can do a home gym all the way to a super gym such as LA Fitness. We've done celebrity home gyms as well, such as Shaq and Silvestor Stallone's gyms to name a few," said, CEO of Specialized Fitness Resources, Ozzie Lopez
Miami, FL (PRWEB) December 23, 2011
According to an article by the New York Times, a person of average weight can gain about one pound over the course of the holiday season. However, an overweight person can expect to put on between one and five pounds. Specialized Fitness Resources has recently added four different products into their online inventory to help those looking to kick off the New Year on the lighter side. The Matrix Livestrong E and S Series Cycles and Matrix and Concept2 rowers are now available for purchase and make the perfect gift for anyone looking to increase their health and physical well-being in the coming year.
The Livestrong E Series Cycle can help any cyclist stay in shape during the off season and help to reduce injury when returning to outdoor training in the spring. With its many advanced features, and compact body-style, the cycle can be easily placed in a home gym for extra convenience.
Some of the Matrix Livestrong E Series Cycle features include: Dual speed pedal and cage designed with both beginner and experienced users in mind, high performance belt for smooth and quiet ride, 40lb balanced flywheel to generate speed and power, integrated sweat guard to prevent rust and corrosion, cantilevered brake resistance system, Kevlar belt system, combination SPD-compatible pedals and micro-adjustable drop handlebar.
For a private or public gym that seems to have all the cardiovascular and weight lighting essentials, a rower is the perfect combination, of the two, to provide some resistance training for the upper body and cardiovascular exercise to maintain strong heart health.
The Concept2 Model D Indoor Rower features include: PM3 or PM4 (which comes with a rechargeable battery and Garmin chest belt for heart rate monitoring) performance monitor, minimizing flywheel design that maximizes a smooth feel of rowing on the water, ergonomic handle to promote natural arm and hand positioning, adjustable monitor arm for compact storage, quick and easy sizing with Flexfoot footrests, compact storage, complete with required tools.
Specialized Fitness Resources carries these equipment models as well as many more to further develop any level of home gym. They also provide sports surfacing to protect the floor beneath gym equipment and work-out area.
"We can do a home gym all the way to a super gym such as LA Fitness. We've done celebrity home gyms as well, such as Shaq and Silvestor Stallone's gyms to name a few," said, CEO of Specialized Fitness Resources, Ozzie Lopez.
For more information about Specialized Fitness Resources, visit http://www.specializedweb.com.
Follow product updates and event appearances on Twitter @SpecializedMIA.
About Specialized Fitness Resources:
Founded in 1993 by Ozzie Lopez, Specialized Fitness Resources has over 28 years experience in the rubber mats and fitness industry making them the leader in fitness, athletic, and specialty flooring. It provides eco-friendly sports surfacing for a variety of athletic activities in public facilities and at home. Specialized Fitness Resources has outfitted dozens of CrossFit affiliated centers, police and fire departments, military branches, university fitness centers, and celebrity home gyms.
Contact:
Info(at)specializedweb.com
305-752-0451
http://www.specializedweb.com
Ozzie Lopez
# # #