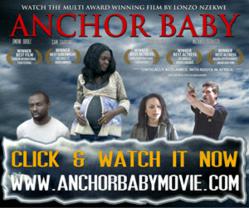 Anyone can go to their website at www.anchorbabymovie.com, and rent the movie in HD for only $4.99. Renters will have access to watch the film five times whithin thirty days.
Toronto, ON (PRWEB) December 23, 2011
After various successful theatrical releases in North America, UK and Africa, the highly anticipated, 2012 BAFTA shortlisted/multi-award winning film, Anchor Baby goes online at http://www.anchorbabymovie.com via the Distrify Video On Demand.
Anyone can go to their website and rent the movie in HD for only $4.99. Renters will have access to watch the film five times whithin thirty days. The movie can also be watched on any website that is embedded with the Anchor Baby video player. The movie can be played on an iPhone, iPad, iPhone Touch and any other mobile device that is connected online.
Another exciting news is that the filmmakers are giving away 10% commission from sales generated when someone shares the Anchor Baby video player online. This is a great incentive that will compel bloggers and fans to promote the movie.
Anchor Baby is the critically acclaimed film written, directed and produced by first time filmmaker, Lonzo Nzekwe. It stars the multiple award winning Nigerian Nollywood actress, Omoni Oboli and Ghanaian born/Hollywood based Sam Sarpong. The film has enjoyed tremendous success since its official world premiere at the Harlem International Film Festival in September 2010. It won the "Best Film" and "Best Actress" awards at the Harlem festival. It is one of the best African films to be released in a while, and it's also the longest running African produced film released in UK cinemas in 2011.
Log line:
An illegal immigrant couple from Nigeria, pregnant Joyce (Omoni Oboli) and Paul Unanga (Sam Sarpong) are on the run from the United States immigration, desperately hoping that Joyce will give birth in the US, so their child can become an American citizen. Anchor Baby is an emotionally charged tale that will leave you guessing all through the end.
The film's release is timely when one considers the current immigration climate. Earlier this month, the American Heritage Dictionary added the term Anchor Baby to its dictionary, but quickly changed the definition to highlight the fact that it is a slur term. Steve Kleinedler, the publication's executive director, says he realized the old definition was "a mistake that needed to be corrected" after a series of conversations with Mary Giovagnoli, the director of the Washington-based Immigration Policy Center. It was reported that Giovagnoli wrote a blog condemning to initial definition which then prompted Kleinedler to reverse the definition.
To see this amazing film now, go to http://www.anchorbabymovie.com and watch the movie in full HD quality. One can also check out the movie at the Distrify Anchor Baby movie page.
###