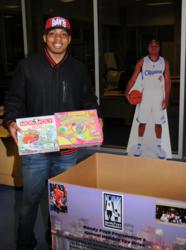 Newark, NJ (PRWEB) December 23, 2011
The Randy Foye Foundation's 4th Annual Holiday Toy Drive has been its biggest yet. Members of the Los Angeles Clippers guard's foundation handed out 1,024 presents on Thursday to kids in Foye's hometown of Newark, NJ.
On December 3rd before the NBA season began, Foye launched the toy drive at Dr. Jays in downtown Newark. Earlier this week, he handed out presents to Los Angeles youth alongside Clippers teammates Blake Griffin, Chris Paul, DeAndre Jordan and Ryan Gomes.
"It's always a great feeling to be able to give back," Foye said. "This year was unique because I was able to make an impact on both coasts through my foundation and as part of the Clippers organization."
Participating in this year's toy drive was Ray Catena Auto Group, who collected presents at their 14 dealerships and service centers; Dr. Jays, who hosted the kickoff event and collected presents at all 3 Newark stores; Villanova University's Campus Activities Team; Randy's alma mater East Side High School; and Forrestdale School in Rumson, NJ. New York radio powerhouse Hot 97's DJ Wallah also stopped by the launch event with a large amount of presents to donate.
"We were thrilled to have so many collection sites this year," said Christina Vuocolo, Vice President of the Randy Foye Foundation (RFF). "It made it easier for our supporters to give a gift in their area and know that it ultimately ended up with an organization whose mission they deeply value."
Over 50 volunteers pitched in to collect, sort, wrap and deliver the presents. Wrapping took place over two days at the RFF office with each gift being labeled for the appropriate age and gender of its recipient.
"For each of the past three years, we've made it our commitment to provide a present for every student at Dr. E. Alma Flagg Elementary School, which is the elementary school that Randy attended," Vuocolo continued. "This year, we wanted to expand our outreach and are very pleased with the response. We were able to donate several hundred gifts to Dr. William H. Horton Elementary School as well."
"We know that times are still tough for many people. All it takes is one person buying one present for someone else in order for the true spirit of the season to be realized. I'm overwhelmed by the number of socially responsible people who pitched in and gave back."
RFF believes that every child should get to experience the joy of opening at least one Christmas present. This year, thanks to the many individuals and corporations who helped make the toy drive a success, 1,024 children have that feeling.
###