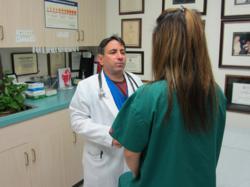 Newport Beach, CA (PRWEB) December 23, 2011
Is it really possible to be healed of Chronic Pain? Dr. Scott Stoney has developed an approach that eases pain, suffering and improves the quality of life. Dr. Scott Stoney Guides His Newport Beach Patients on the Path to a Pain-Free Way of Life. Say "Hello" to Dr. Stoney and say "Bye-Bye" to pain.
Every day, countless Americans live with discomfort and soreness in specific and various areas in the body. Pain in the back, neck, hip, knee, shoulder, elbow and ankle can occur with or without movement and be severe enough to limit movement. An individual's experience can be limited to discomfort or soreness and can evolve all the way to inflammation, stiffness, and pain. Since joints, muscles, nerves, and bones allow bodies to move, any twinge of an ache can make even the simplest of daily tasks quite daunting. For more than twenty years, modern-day miracle worker, Scott Stoney, MD of California Rehabilitation and Pain Management, has developed an approach that eases pain, suffering and improves the quality of life for those living with chronic pain. His most recent interview of KCAL Channel 9 can be seen at http://www.CaliforniaRehab.com.
As a renowned pain management physician, Dr. Stoney holds two board certifications, one in Pain Medicine and another in Physical Medicine and Rehabilitation. He brings successful healing to many who walk through his Newport Beach clinic doors every day. Knowing that there is no need to live in pain, Dr. Stoney's approach restores function and improves quality of life. His treatments range from physical modalities, training, therapeutic exercise, medication, injections, modification of movements and activities. In treating the neck, back, and joint pain as well as pain caused by headaches, migraines, fibromyalgia, and cancer, he implements adaptive equipment and experimental approaches for those with progression of an illness for which there is often no traditional cure.
Dr. Stoney also treats post-operative pain, nerve injuries, herpetic neuralgia, shingles, sympathetic dystrophy, diabetic nerve pain, sciatica, interstitial cystitis pain, phantom limb pain, spinal chord injuries, brain injury pain, post traumatic pain, pelvic pain, sciatica, and TMJ. By using a unique, patient-specific plan, Dr. Stoney's patients are able to finally silence the noise of pain inside their bodies. In fact, Dr. Stoney's methods are so revolutionary and effective that he has been published in medical journals and is known as a pioneer for new methods of pain management and treatment. His philosophy is traditional in terms of care, yet progressive in terms of treatment. Dr. Stoney takes the time to listen to his patients since pain in the interior of the joint, muscle, nerve, or bone is unheard, unseen, and untouchable. He applies his "Living Tree" approach relentlessly as he treats his patients back to a painless existence. He adapts treatment plans that are results-oriented and effective to lead his patient's to their ultimate destination—a pain free way of life.
Having been appointed to several positions of high esteem, including a position on the Board of Trustees for the National Fibromyalgia Association, Dr. Stoney stands out from other pain physicians by his inherently different approach. His personalized care brings relief and comfort to those he treats. In fact, his treatment plan for each patient is individually customized.
It is no surprise that Dr. Stoney received the Most Compassionate Physician of the Year Award and the Patient Choice Award in 2010 by Vitals.com. In treating and relieving pain that other physicians cannot even identify, nothing satisfies this problem solver more than transforming his patients' lives so they can live life to the fullest, free of pain and suffering.
Scott Stoney, MD is the recipient of a letter of commendation by the Commanding Officer for the Camp Pendleton Marines. He was published in 2010 and 2011 in Medical Journals for his articles: "Fibromyalgia: Pathophysiology and Treatment" by Pain Scan, a Continuing Medical Educational Journal, "Physical Medicine and Rehabilitation for Fibromyalgia" by the Journal of Pain Management, and "Pain in the Bipolar Patient" in the Practical Pain Management Journal. Dr. Stoney has served as a board member for the Pepperdine Alumni and he also is a member of CHOC Foundation Corporate Relations Committee.
The Mission of California Rehabilitation is to educate people around the world to understand pain, to provide an understanding of why there is a need to treat pain, to encourage those who have pain to seek treatment, and to provide the most comprehensive and advanced pain treatment available. For more information, or to schedule an appointment with Dr. Stoney, please visit http://www.CaliforniaRehab.com.
Dr. Scott Stoney
California Rehabilitation and Pain Management
361 Hospital Rd
Suite 425
Newport Beach, CA 92663
Office: 949.548.4580
Fax: 949.548.2558
http://www.CaliforniaRehab.com
"We Support The H.O.M.E. Foundation"
About The H.O.M.E. Foundation:
The Helping Others Means Everything, or The H.O.M.E. Foundation, is a not-for-profit organization dedicated to helping our Family of Charities during these tough economic times through added incentives, luxury raffles and high profile celebrity events. Our mission is to help charities reach their fundraising goals and to bring awareness to their praiseworthy causes. Please visit our Dream Home Raffle at: http://www.HOMEFoundationRaffle.com and http://www.facebook.com/HOMEFoundationRaffle.
###