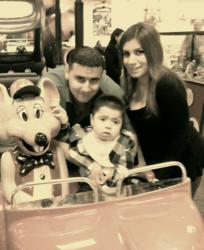 I'm just so grateful my son is alive, & I will do anything necessary to take care of him, says paralyzed baby's father.
San Diego, CA (PRWEB) December 27, 2011
Passion 4 K.I.D.S children's charity honored Jacob Wallis, 22-year-old father, of baby Izaiah Wallis who remains paralyzed from the waist down after being violently struck by a teen drunk driver while in his stroller on the sidewalk being wheeled by his grandfather on the way to the park, according to the North County Times.
Izaiah requires 24/7 care including intricate medical machines that his father has learned to become his primary caregiver, leaving his job to take care of his son full-time.
Jacob lovingly tends to his baby son all day and many times stays up all night if the scheduled evening nurse doesn't show up. His love, devotion and focus on taking care of Izaiah is an inspiration to everyone who sees it. The work to care for Izaiah consists of feeding, changing, doing exercises, physical therapy, turning him, taking him for a walk, cleaning the machinery, taking him to all his appointments, etc. It is never ending as a machine suddenly beeps and turns an ordinary day into an emergency with Izaiah gasping for breath.
While many people focus on the injured child, few realize the unbelievable toll this type of tragedy causes in every aspect of the family's life. There is no normal, no routine, no spontaneity. Every trip has to be preplanned with tubes, machines, bags, supplies, wheelchair, feeding tube, ventilator, oxygen all part of the process. But somehow a supernatural strength is given to those
chosen to bear this burden and they are the first to step up to help other families in need.
In this holiday season, let's remember the caretakers. Their needs are great. Passion 4 K.I.D.S. is raising funds to purchase Izaiah's family a small handicapped accessible home so that Jacob can continue caring for his son full-time. To donate to help Izaiah's family, visit http://www.passion4kids.org.
About Passion 4 K.I.D.S.
Although Passion 4 K.I.D.S. charity has a heart & love for children in need all over the world, they have made a conscious decision to help the children in America who, though living in the most affluent society on earth, still struggle in ways that are beyond belief. Over 20 million children in the U.S. go to bed hungry each night. Passion 4 K.I.D.S. wants to do all they can to change that - one child at a time. They not only help financially if possible but are very hands on with the children & hope to remain in their lives always as a reflection of God's love.
Passion 4 K.I.D.S. 501 (c) (3) was founded by Charles and Linda Van Kessler and deals with homeless, neglected, abandoned, abused and underprivileged children of any race, color and creed as well as children in emergency situations. Because of Charles' background having been raised in a state run orphanage in Amsterdam, Holland during WWII, enduring abuse of every kind and surviving on flower bulbs, he started Passion 4 K.I.D.S. in 1986. When he met his bride in 2001 in San Diego, together with his wife Linda, they developed the charity into a more active organization. With Linda being a mentor for the San Diego County Foster Youth Program, Charles' and Linda's love for children makes it a perfect fit to expand their meaningful humanitarian mission.
Charles and Linda believe in having a very hands on approach both in the day to day operations of the charity as well as the lives of the children they work with. Passion 4 K.I.D.S. donates Passion 4 Life liquid vitamins to quadriplegic, autistic and ADD/ADHD children who can't afford it. Linda also mentors foster youth in San Diego and, together with Charles, spends many weekends taking these children on fun one-on-one outings so they can bring joy, love and stability to these turbulent young lives. They build lasting relationships with the children which continue long after the children leave the Foster Youth Program. In addition, Passion 4 K.I.D.S. raises funds for children in acute, life-threatening situations. 100% of donations go directly to the children. There is NO overhead taken out.
Passion 4 K.I.D.S. is partially funded through the Van Kesslers' company, Passion 4 Life liquid vitamins and minerals, as well as through private donations.
Donations to Passion 4 K.I.D.S. can be made on http://www.passion4kids.org. __title__ ]
###