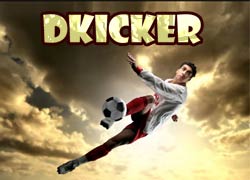 Since October 2006, this website was visited by 25 millions of visitors.
(PRWEB UK) 25 December 2011
Online football games portal, FlashFooty.com recently marked a significant achievement - this website was visited by 25 millions of visitors (with a total of 90 million pages viewed), since October 2006, when it was established in this form. During five years of existence, this website had over 13 thousand unique visitors a day which makes them one of the most prominent football gaming places on Web.
FlashFooty was founded by two football and programming enthusiasts. What distinguishes them from the competition is that they develop their own games - in past few years they launched around 15 games, mainly football themed. Some of their titles, like Penalty Fever and Dkicker, got very good reception and popularity among players. Other significant items in their portfolio are: Flash Striker, FlashFooty Hockey, Golden Cup, Darts Cricket and others.
Dkicker recently got its special version, Dkicker English Special, containing more than 350 teams from top seven leagues. Authors say that this is probably the most comprehensive list of English teams ever seen in casual Flash football games. This game can be played exclusively on FlashFooty.com.
Website also contains games made by other developers, but - as owners of the website point out, quality goes before quantity, and only games that they personally like can find their place on FlashFooty.
###