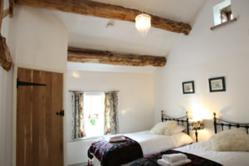 The UK's Fitness Retreat will be opening in Goa in the summer of 2012
(PRWEB UK) 27 December 2011
In 2006 FitFarms ran the first residential weight loss boot camp in the UK. The venue was Devon, the team were only 5 in total but were absolute experts in their fields.
We are now six years later there are around 10 companies in the UK. FitFarms is looked at as the market leaders and because of this they always set a high standard.
Gillie Sutherland the life coach and course director made this statement to the national media just before Christmas. "Here at FitFarms we do not believe we are the most successful retreat in the UK just because we have two or three times more guest than our closest rival. I believe we are in this position not because we were the first UK camp but we always look to improve the course every time we run. When the holistic week finishes we hold a meeting that typically last for a couple of hours. The fitness team discuss the week and the improvements we can put in place to improve the next week."
Over the years FitFarms has introduced a more holistic approach to the weight loss retreat. Stephen Cole and Gillie Sutherland have sourced local pilates teaches to improve posture, local yoga instructors for flexibility and even a local Tai Chi instructor to bring a spiritual part to the week.
There are two sites to choose from one in the Peak District and one on Exmoor. Both retreats are in areas of outstanding beauty in spectacular national parks. FitFarms believes that the location of the fitness retreat is essential for creating good relationships with exercise and nutrition.
The exercise programme stays exactly the same on both weight loss retreats. Every walk has been tested on how many calories spent. The only difference is the accommdation but even that is both 5 start luxurious accommodation on both fitness retreats.
2012 will be an exciting time for FitFarms as they will be opening a new site in Goa India. This will give the FitFarms members an oppurtunity to book onto a UK weight loss boot camp or travel overseas to a warmer climate and exercise by the beach.
FitFarms looks forward to helping all new members in 2012 on once again a much improved programme in the Peak District, Exmoor or at their wonderful new location at the weight loss boot camp beach resort Goa.
###