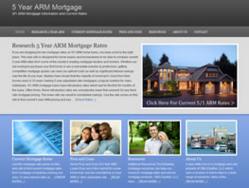 Wilmington, NC (PRWEB) December 26, 2011
5-year-arm.com recently went live, offering consumers information on 5 year ARM mortgage programs and direct access to current 5 year ARM rates from a variety of mortgage companies. CMG Equities, LLC, the financial publisher behind the new site hopes it will be a valuable resource for mortgage shoppers interested in learning more about the pros and cons of 5 year adjustable rate mortgages.
Home buyers and homeowners often don't consider adjustable rate loans for the their home financing, preferring the security of a fixed rate mortgage and a monthly payment that will never increase. However, as 5-year-arm.com points out, there are scenarios for which the program could be a great fit.
A five year adjustable rate mortgage has a fixed rate for the introductory five year period, and then the rate will adjust each year based on the current market at the time of adjustment and the terms of the loan. Each 5 year ARM has an annual cap and a lifetime cap, which limit the amount the rate can increase with each yearly adjustment, and overall.
In exchange for taking on the risk of interest rate increases down the road 5 year ARM borrowers are rewarded with rates during the 5 year introductory period that are generally much lower than comparable 30 year fixed home loans. If a homeowner plans to sell the home, refinance, or pay off the mortgage before the 5 years are up, they could see significant savings by selecting the 5 yr ARM program.
Here is an example of mortgage rates posted on 5-year-arm.com on Wednesday, December 21, 2011 which illustrates how pricing for the different programs can compare:
Lender: Gateway Bank Mortgage
5/1 ARM Rates: 3.000% Note Rate, 3.034% APR, 0 Points, $875 Fees
30 Yr Fixed Rates: 3.875% Note Rate, 3.885% APR, 0 Points, $250 Fees
Lender: EverBank
5/1 ARM Rates: 2.750% Note Rate, 2.783% APR, 0 Points, $852 Fees
30 Yr Fixed Rates: 3.750% Note Rate, 3.785% APR, 0 Points, $852 Fees
On a $200,000 loan the difference from a rate of 3.75% to 2.75% equates to a difference in monthly payment of $109.75. Multiply that times 12 payments a year over five years and the potential savings amounts to $6585. Of course, this example is based on the pricing from just one day. Mortgage rates change all the time, and the difference between fixed rate and adjustable rate pricing changes as well, based on current economic conditions.
"Our goal is for mortgage shoppers to make informed decisions," said Nat Criss, Managing Partner of CMG Equities, of the company's decision to create 5-year-arm.com. "Home buyers might not know they have options other than a 30 year fixed loan, and we aim to bring them information on some of these lesser utilized programs. They can then bring questions to their loan representative and explore what makes the most sense for their scenario," he continued.
No sign up or personal information is required to view today's mortgage rates on 5-year-arm.com, and the interest rates posted are routinely among the best available on the market. Competing mortgage banks, lenders, and brokers are listed side by side for simple comparison.
Rates posted are subject to change. Please visit the site to view the criteria used in the rate survey.
About 5-Year-ARM.com
5-Year-ARM.com is a mortgage research web site where consumers can learn about the 5 year adjustable rate mortgage program (5/1 ARM) and compare current mortgage rates from competing providers. 5-Year-ARM.com is owned by CMG Equities, LLC which is based in Wilmington, North Carolina.
###