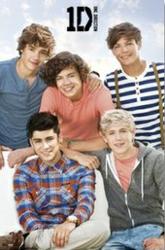 As the boys release more singles, albums and plan more tours their popularity is only set to increase and GB Posters can't wait to follow the rest of their journey
(PRWEB) December 24, 2011
The expansion of the range includes new individual posters of the boys as well as brand new group shots, GB Posters have added these items due to popular demand from enthusiastic One Direction fans and the Christmas rush for gifts related to the band. These great new posters will certainly make fans happy and will give them an even bigger range of shots to choose from when buying posters of their favourite boy band.
GB Posters sells a huge variety of posters and their music range does not just cater to the pop industry. Selling posters, badges, 3d posters and sticker sets, the company cover every single range of music as well as posters from brand new and classic films alongside football posters, general posters, children's posters and art posters.
The art posters are also extremely popular as homeowners can buy reproductions of their most loved pieces of famous artwork and display them in their homes. GB Posters also sell, alongside this impressive range, a collection of poster frames which gives every customer the chance to turn a favourite poster into a loved piece of artwork for their home which they can keep for years to come.
GB Posters are no stranger to bands being flavour of the month but the One Direction craze has taken both the poster company and the public by surprise. Jamie Wilkins, Ecommerce manager at GB Posters has seen the trend grow from the very beginning, "Since the boys competed on the X-Factor we have had non stop requests for posters of the group. After their album release and now with their UK tour we are sure this will only continue to increase".
The band are another act from a long line who have found fame on the X-factor yet the five members of the boy band,Zayn Malik, Liam Payne, Harry Styles, Louis Tomlinson and Irish Niall Horan, all auditioned separately as solo artists. After failing to make the cut to go through to the next stage on their own the boys all thought their dreams were over. Yet it was only when guest judge Nicole Sherzinger suggested that the five boys join together to become a band that the X-Factor judges and the UK nation saw their potential.
One Direction went on to finish in third position of the 7th series of the X-Factor yet this has not stopped them from going on to become one of the biggest boy bands since the likes of Take That, Westlife and more recently JLS.
With their boyish good looks and charm it is no surprise that so many women both young and old have fallen for them and that poster sales have gone through the roof. The boys records have also experienced a similar effect which saw their first album become the fastest-selling debut single of 2011 after only 3 weeks of sales and their first single "What Makes You Beautiful" shooting straight to number 1 after only 15 mins of being released on iTunes. They sold an incredible 153,965 copies of the song in one week alone.
The announcement that they were to tour also sent fans into a frenzy as all of the 25 tour dates sold out in minutes. Beginning on the 18th December and running straight though to the end of January the tour is only set to increase their popularity and the sales of posters.
As the boys release more singles, albums and plan more tours their popularity is only set to increase and GB Posters can't wait to follow the rest of their journey releasing more posters as they become more and more famous.
###