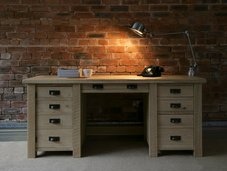 The new collection features everything you need for your home office whether it be a large study or under stairs space
(PRWEB) December 29, 2011
In today's age of technology, it would seem that no UK home is complete without a computer or laptop and an increasing number of homeowners are using a room or area of their home for work purposes. Indigo have taken the opportunity to update their range with the office collection to meet this increased demand, and this has been met with great approval by their loyal customer base. Indeed the collection is a refreshing addition to the often boring world of office furniture, injecting some much needed character and charm with their chunky wooden designs.
The new collection features everything you need for your home office whether it be a large study or under stairs space. There is the Indigo double desk design with large work surface and two sets of sturdy drawers for storage of all your paperwork and stationery. As you would expect with an innovative Indigo design, you can configure the desk storage with any one of three options so it is perfect for your needs. The Desk also includes some uniquely Indigo features, such as the gun metal inkwell, which gives it that distinctive vintage feel. It is also available in a single desk design, which is just as practical and includes one set of drawers only, perfect if you have a little less space to work with. Both of these designs are available in the distinctive character Plank wood, or the stunning Riven Oak.
As well as the desk designs, the Home Office collection also features a number a stylish storage options including bookcases and drawers. The bookcases come in a range of sizes that are suitable for any space in the home, and all have adjustable shelves so you can configure them to suit your needs. They also come with gun metal fittings to add to their style and character and match the desks perfectly. The drawer options are also extensive, and include the Plank Filing Cabinet which is the perfect accompaniment to your Indigo desk. This stylish cabinet is available in two, three or four drawer designs, and certainly has to be a far more stylish alternative to the usual sterile metal storage available on the market!
This range is also available to purchase through their flagship store based in Matlock, Derbyshire. Here you can visit the home of Indigo Furniture and see the entire collection in the flesh, as well as meet some of the friendly Indigo team who are on hand for help and advice.
As of 26th December 2011, the Indigo Furniture January sale officially starts online, with 10% taken off the entire range, so there is no better time to add or update your home office.
###