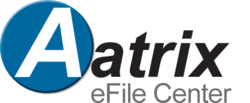 It is obvious that eFiling is more than a trend. It has become an essential business tool.
Grand Forks, North Dakota (PRWEB) December 27, 2011
Aatrix Software, Inc., a leading payroll reports/payments eFile provider through the Aatrix Payroll eFile Center announced to day that the filings volume YTD 2011 are more than double compared to the same period in 2010. The Single-point eFile center processes Unemployment, Withholding, and new hire payments and reports for all 50 states.
The Aatrix eFIle Center processed over 3 Million W-2s /1099s and more than 350,000 payroll reports and electronic payroll payments through the third quarter of 2011.
This is the fifth consecutive year that Aatrix has experienced more than 100% growth and projections for 2012 show no signs of slowing.
eFiling more than a trend
Steve Lunseth (Aatrix CEO) commented that, "It is obvious that eFiling is more than a trend. It has become an essential business tool and recent changes in federal requirements have made electronic payment of federal deposits mandatory for virtually all employers."
Large companies may make deposits and file reports several times a week.
It can be hundreds of filings in multiple states each year. Automating this process
provides significant time and money savings for the business user.
No matter what size the company, compliance to eFiling requirements,
ever-changing forms, and meeting new guidelines legislated into existence
during the year is difficult and opens you to significant fines and penalties
for non-compliance.
The Aatrix eFiling Service eliminates concerns about compliance
State and federal agencies continually change filing dates, forms, calculations, rates, and compliance standards. The risk of costly fines and penalties for non-compliance is one of the greatest concerns of business owners and particularly payroll administrators.
Aatrix's Tax Compliance group maintains hundreds of State and Federal payroll forms, and the Aatrix eFile Center provides a guaranteed delivery method insuring 100% compliance.

Forms approved by over 170 agencies
Aatrix prepares payroll reports in one of the 100s of electronic
formats maintained and updated by Aatrix.
Aatrix Compliance Center provides support at no charge
Aatrix guarantees compliance for timely filings
Time date & stamped history files provide a flawless audit trail
Compliant services continue to expand each year. Aatrix's Compliance Center maintains over 600 separate form pages that are approved by state and federal agencies for filing.
The Aatrix eFile Center assumes responsibility for every filing received on time. Aatrix provides a fool-proof filing method that eliminates the risk of costly fines and penalties.
Aatrix Software, Inc.
Located in Grand Forks, ND, Aatrix Software has been developing innovative
accounting software solutions since 1986. Originally founded to develop Macintosh accounting and payroll applications, Aatrix's Electronic Forms Division has established itself as a leader in payroll tax forms, providing Electronic Payroll Reports and eFiling (Windows and Macintosh) to accounting software. Aatrix's finance software has received numerous awards, including Software Digests highest overall rating and Home Office Computing Editors Pick.
In 1998 Aatrix established a Windows® development group given a mission to create a comprehensive state and federal payroll reporting solution module that could be integrated with any accounting software. Today, after millions of dollars invested and armed with US Patent #7,171,165. The Aatrix Electronic Forms Division is now one of the nation's premier payroll reporting specialists.
The Aatrix State Payroll Reports™ module for Windows provides over 230 payroll reporting and payment forms that are completed from host data and can be printed on plain paper and mailed, or electronically filed utilizing Aatrix's Payroll eFile Center.
The State Payroll Reporting module has been developed for many accounting
products including the following Sage solutions:
Sage BusinessWorks
Peachtree First Accounting
Peachtree Accounting
Peachtree Complete Accounting
Peachtree Premier Accounting
Sage Abra HRMS
MIP Fund Accounting
Sage MAS 90 and 200
Sage Master Builder
Sage Timberline Office
Red Wing Software
CYMA
Cougar Mountain
Blackbaud
AccountMate
AgManager
With more in development
###