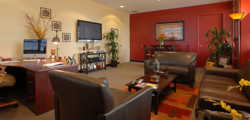 HPC has truly made an ideal environment for production, post-production and professional services to be housed. Once you join our family you will truly understand that we have really taken our facilities beyond office space.
Hollywood, CA (PRWEB) December 25, 2011
Professionals or business executives being catered to in this business production facility are attorneys, accountants, architects, web designers, real estate agents, PR and marketing practitioners, talent and fashion Agencies.
The Hollywood Production Center facilities well-managed office space to rent set ups include, among other things, the following features:

phones & internet
non-furnished and furnished offices
security personnel and surveillance
conference rooms
janitorial & utilities
valet parking
gym with lockers & toiletries
personal trainer & yoga classes
free coffee machine
Scalable space
pet friendly
short and long term leases
and more
"We are specialist in providing the entertainment and creative industry with the best and highest quality of service by offering multiple services and amenities to those in need of office space," says Tina Damadyan , Marketing Manager at Hollywood Production Center.
The Hollywood Production Center office space rental facility has made it possible for anyone in the entertainment industry to work among their peers with sophistication, no matter what aspect of the industry they are in and what their needs for office space are.
"With many years of experience in the entertainment industry, our highly trained support personnel provide an exceptional level of customer service and an understanding of your needs. Our staffs are here to quickly respond and accommodate all of your office requirements," says Tina.
So, whether the professional needs production, post-production, casting, writing or creative space, filming locations, executive offices, or any office space for any industry needs, The Hollywood Production Center can readily satisfy one's rental or leasing needs of the short, medium, or long term lease.
"In addition to our leases, we also provide the flexibility to grow into new space and also subtract space, as your production needs change, to provide uniquely inviting and friendly atmosphere that guarantees an exceptional working experience".
"Hollywood Production Center is your home away from home!" she said.
Individuals and companies interested to rent offices can review the available locations on Hollywood Production Center website, http://www.HollywoodPc.com, or call (818) 480-3100.
####