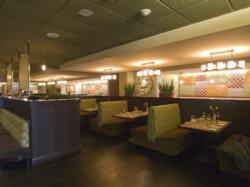 Winner of the 2011 Talk o' the Town Award
Denver, Colorado (PRWEB) December 23, 2011
Zink Kitchen + Bar in the Denver Tech Center is again offerring the annual New Year's Eve dinner extravaganza for a low price of just $59.95 per person. Enjoy your choice of appetizers and entree's in the four course meal offerred exclusively by Zink Kitchen + Bar.
For a first course enjoy treats such as Orange Ginger Calamari, Beef Carpacio, Korean Street Tacos with BBQ Pork and Chili Garlic Sauce and Ahi Tuna Tataki with Ponzu and Sesame Crisps. The second course introduces a choice of Warm Spinach Salad, Heirloom Beet Salad with Orange and Candied Walnuts, The Antipasto Chop with Pepperoncini and a nice Tuscan Casear with dried tomatoes, Rggiano and house casear.
Entrees include Hawaiian Wahoo with veggie fried rice, Grilled Filet Mignon with roasted mushrooms and Manchengo Crisp, Colorado Lamb Shank or Winter Vegetable Tangine with Cous Cous, Almonds and Harissa. Dessert includes a choice of Vanilla Mascarpone Panna Cotta, Sticky Toffee Pudding or Chocolate Chambord Raspberry Cake.
Take advantage of this special today! Reservations are available online at the Zink Kitchen +Bar Restaurant website or by calling the restaurant directly at 303-779-1559 today.
The DoubleTree by Hilton Hotel is offerring this New Years Eve Zink Kitchen + Bar Restaurant special with a New Years overnight hotel stay for only $199. Please contact the hotel directly for details.
###