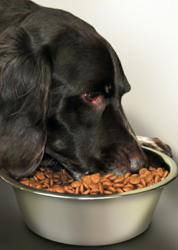 "Dogs are not natural cereal eaters."
Meridian, Idaho (PRWEB) December 26, 2011
A super-premium, all-natural low-grain dog food is being introduced today by Dynamite Specialty Products, which has been making all-natural animal feed and nutritional supplements for four generations.
Super Premium Dog Food is corn-free and wheat-free and has improved the quality of the vitamin and mineral pack in the food, said Jos Zamzow, chief operating officer of Dynamite.
The quality of the protein in this all-natural dog food is superior because it comes from raw meat that is cooked on site, rather than precooked meal that is then cooked again during the manufacturing process. The elimination of an extra cooking cycle means that heat-sensitive enzymes and vitamins retain more of their nutritional value, Zamzow explained.
The all-natural dog food also comes in a new package with a one-way valve that eliminates the introduction of air into the bag, minimizing the oxidation of vitamins and helping them retain their nutritional qualities.
Super Premium Dog Food has an introductory price of $60 for a 40-pound bag.
The new dog food is a continuation of Dynamite's efforts to develop a natural dog food that does not trigger allergies and is suitable for dogs with diabetes. High grain content in dog food is believed to be a source of allergies, as well as a contributing factor in obesity.
Dynamite will introduce a completely grain-free dog food and an all-meat cat food next year, Zamzow said.
"Dog are not natural cereal grain eaters," Zamzow explained. "They do best on a diet of meat. You will hear that dogs are omnivores, but the truth is that dogs are secondary omnivores. They rarely eat berries off a bush like bears and pigs. If you were to picture a dog running through a field of wheat, it would be eating mice on the ground, not the berries off the wheat. The only animals on the planet that really prefer cereal grains are small birds."
Dynamite recommends supplementing Super Premium Dog Food with Showdown, its signature vitamin and mineral supplement for dogs. "Heat always impacts most vitamins and enzymes," Zamzow added. "In order to provide the best possible nutrition for your dog, we always recommending adding natural vitamins and minerals that have not been heated."
Dynamite also recommends adding Dyna-Pro prebiotic while a dog is transitioning to Super Premium Dog Food. Many dog owners use Dyna-Pro prebiotic daily to improve gut health.
A family-owned business that has specialized in animal nutrition for four generations, Dynamite Marketing makes natural food and nutritional supplements for dogs and virtually every member of the animal kingdom. It has long developed food and nutritional supplements for working dogs and prize-winning racehorses across the country. Its specialists can recommend exactly what vitamins, minerals, nutritional supplements and natural dog foods best support dogs with arthritis, horses with laminitis, cats whose owners make their own food, and cows with digestive issues.
Dynamite has worked with veterinarians and university researchers to produce specialty foods to correct nutritional deficiencies in animals ranging from Canadian muskoxen to peregrine falcons to zoo exotics.
Dynamite's natural dog food uses only ingredients made in the United States for better quality control. The company's Canine Cookies also use only natural ingredients.
Throughout its history, Dynamite has always looked at alternatives to animal by-products, antibiotics, chemical preservatives, fumigants, artificial coloring and other additives that have later caused health problems. Its manufacturing processes are so stringently controlled that Dynamite has a separate mill to produce feed for herbivores, such as horses and poultry that are especially sensitive to contamination from meat needed by other species such as dogs and cats. Manufacturing facilities are in Idaho and Iowa.
Additional information is available on the Internet at dynamitemarketing.com or by calling (800) 697-7434.
###