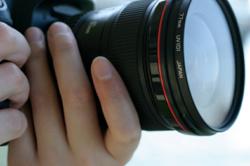 Valley View, OH (PRWEB) December 24, 2011
Family and friends are gathered. The magic is happening. Whether you're shooting video or stills, be ready to capture the memories with these photography tips from Nanofilm.
1. Step one: is your camera lens clean? A smudge of cookie icing or a wayward fingerprint can ruin the moment. Remember, that smear may not show up on the display screen and you won't know you have a problem until it's too late. Clarity Lens Care is preferred by many professional videographers and photographers for safe, effective cleaning.
2. Closer, closer, closer. Wide shots capture the scene, but not the moment. Move in close to see faces and eyes, and you have something unforgettable. Even if you're shooting scenery like greener or snowmen, the details of a close-up will be more compelling.
3. Change your perspective. Normally, it's best to be on eye level with a subject. (Yes, get down on your hands and knees to shoot children and animals.) But for a different effect, think about a new angle: a tiny child peering up, a friend gazing off, a peek out the window to a gathering below.
4. Shoot candid, shoot often. Portraits can be wonderful, but trying to get a whole gang to stand still and smile can sacrifice personality. Try strolling through the kitchen while the chefs are making cookies. Snap the kids playing with new toys instead of holding them up for the camera. Shooting video? Carol singing is a movie with its own beautiful soundtrack.
5. Go outside and play. Sledding and snowmen or walk in the woods is the beginning of great memories. Don't worry about cold weather fogging your camera lens. Just apply an anti fog treatment like Defog It anti fog, the one professionals use.
6. Watch the background. A cluttered background takes away from your main subject. You don't want a decorated tree growing out of someone's head or the muddle of the family room furniture overwhelming your heroes.
Clarity lens care products and Defog It anti fog are specially formulated for precision optics by Nanofilm and are proven safe and effective on all lens types. They're available in liquid and convenient towelettes.
Nanofilm(http://www.nanofilmproducts.com), founded in 1985, is a global optical leader in lens care and coatings. Millions of people around the world use Nanofilm products, including Clarity Clean It™, Clarity Defog It™ anti fog and other lens care products, as well as nanotechnology-enabled coatings.
###