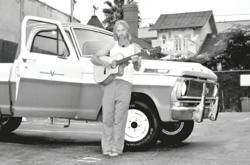 Vail, CO (PRWEB) December 23, 2011
Christopher Hawley is a Southern California surfer who has played music in ski towns all over the world. His band has released three records in the last three years. Their influences include reggae, bluegrass, and folk and his songwriting is inspired by the outdoors: "a wilderness experience, the beauty of snow-capped mountains, and his travels" (sneakPEAK December 22,2011).Christopher was featured in sneakPEAK, Vail's premier weekly lifestyle magazine, on December 22nd, 2011. To read the article go to http://www.sneakpeakvail.com. For song samples and video of Christopher go to http://www.ChristopherHawley.Net.
Christopher Hawley will play in the Old Muddy Bar December 22nd 6 to 10pm, December 23rd 6 to 8pm, and December 24th 6 to 10pm. Paolo Bussi, head chef at the Alpine Tavern also invites you to enjoy culinary decadence while you enjoy the music. Bussi's is a native of Florence, Italy who has the global culinary skills to create truly continental cuisine. Asian fusion, traditional American, French, German, and Italian dishes are just some of the highlights of the Alpine Tavern's menu. Paolo constantly seeks new and unusual dishes, so you will enjoy the ever-evolving selections along with the traditional favorites.
The Alpine Tavern is not just Vail…..it's the best of Vail….in East Vail and is East Vail's only resort. They are located at 4695 Racquet Club Drive in East Vail. To make reservations at the Alpine Tavern call 970-476-7888.
###