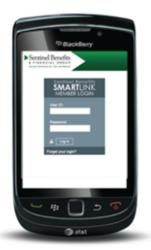 Our mobile employee benefits app is about making it is easy and convenient for our customers
Reading, MA (PRWEB) December 27, 2011
Sentinel Benefits & Financial Group (SBFG), a full service financial services provider has released a mobile solution for participants who have retirement, FSA or HRA accounts administered by Sentinel Benefits & Financial group.
The Sentinel Benefits mobile solution will allow participants to access their retirement and reimbursement account balances whenever they want to and wherever they are. This functionality allows participants to check their available account balances while they are in the pharmacy before using their Sentinel Benny card to pay for purchases and to look up eligible expenses right on their smart phone.
The Sentinel Benefits mobile application features:

Check balances of retirement accounts (401K)
Check balances of reimbursement accounts (FSA, HRA, HSA)
View the FSA Eligible Expense List
Contact us by email or telephone
"Our mobile employee benefits app is about making it is easy and convenient for our customers," said John Carnevale, President & CEO, Sentinel Benefits & Financial Group. "We're proud to be among the first to launch a mobile technology solution that combines both retirement and health care accounts to our members' smart-phone devices."
The mobile application will be available in the iTunes store, Blackberry App World, and Android Marketplace soon. In addition, our mobile website it can be accessed at m.sbgi.com now.
About Sentinel Benefits & Financial Group
Sentinel Benefits & Financial Group is a leading employee benefit consulting and administration firm. Our broad range of financial services makes Sentinel Benefits an excellent choice for clients seeking a single resource to manage all of their employee benefits including group insurance brokerage, Flexible Spending Accounts (FSA), Health Reimbursement Accounts (HRA), COBRA, retirement plan consulting and administration and investment advisory services.
Sentinel serves more than 3,000 businesses throughout the United States. For more information, please visit http://www.sentinelgroup.com.
###