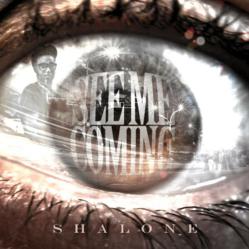 I'm bringing the freedom of music, bringing that spirit back.
Miami, FL (PRWEB) December 24, 2011
Hip hop artist Shalone recently released his mixtape "See Me Coming." Presented by Coast 2 Coast Mixtapes, it is now available for free download. "See Me Coming" features Shalone on tracks with guest artist appearances from Emilio Rojas, Joell Ortiz, Bobby V, Rich Rick, Jeremy Green, and Shontelle. Production credits include All Rounda Productions, Zukits/Knotch, Sarom, Mills of The Khemist, Eurostarzzz, Don Parma, Davix Dot, Don Vito, JNice, Cowwabang/Zitto Heartbeats, and JFK.
Shalone A.K.A Dwayne Bryan was born in Kingston, Jamaica. Raised by his mother when his father moved to the states, and in one of the most notorious parts of Jamaica, his difficult start to life did not deter him from pursuing his music. He could be found at the local stage shows, home watching Saturday afternoon specials or enjoying the marching band after school. Facing the adversities that most children of poverty face, he armed himself with the creative imagination that took him away from the poverty stricken life he walked daily.
He found his escape at the age of eleven, when he moved to America to live with his father in Paterson, New Jersey. With a studio in the basement, Shalone took his aspirations for music to new heights. After spending 3 years with his father and recording in the studio Shalone rejoined his mother in South Jamaica, Queens. They say living in the hood breeds a mentality of survival. Either you play ball, stand on the corner, or do music. Shalone was doing them all. Petty robbery would land Shalone in Rikers Island for some time. Although hustling made survival easier, Shalone knew he was destined for greater things. Upon his release, he decided it was time for a legal hustle, and music was it. While in DC and in North Carolina the response to his music made Shalone even hungrier for stardom in the music industry. His grind, hard work ethic, and love for music landed him on the chorus of Petey Pablo's first album (The Diary of A Sinner 1st Entry), on the song "Truth About Me." Instead of the big break Shalone was expecting, things fell apart. Petey attained his star status, and with a child on the way Shalone was on the grind again.
Shalone has since gone on to do features with Nore, Grafh, Bun B, Busta Rhymes, Joell Ortiz, and Mussolini (Syke) from the Outlaws. The airwaves in New York and along the East Coast have been playing a number of his songs. He has appeared on stage with the likes of Ludacris, Young Jeezy, and T.I., performing his music and unleashing his swag in front of thousands. Shalone makes music that reveals all of his different sides—a far cry from the one-dimensional approach of most rappers. Shalone has created his own style, a hybrid of his love of rap and the rhythm of classic artists like Michael Jackson and Bob Marley. As his bright career continues, Shalone is committed to perfecting his craft and being the artist he knows he is. He has a gift for painting real life emotions and pictures of real events with his ever-changing flow. "I'm bringing the freedom of music, bringing that spirit back. That's what makes me different. Most rappers are too insecure to take a risk. I've been everywhere and I'll always have that reflected in my music," he says.
"See Me Coming" is available for free streaming and download at http://coast2coastmixtapes.com/mixtapes/mixtapedetail.aspx/shalone-see-me-coming
# # #