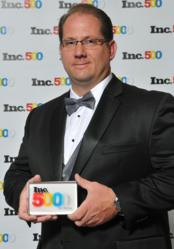 We are honored to be recognized among such distinguished company. Making Inc. Magazine's 5000 list is truly the icing on the cake.
Pipersville, PA (PRWEB) December 29, 2011
Inc. magazine has ranked Dear Garden Associates as one of nation's fastest-growing private companies in 2011. With a 35% growth rate in the last three years, Dear Garden Associates ranked No. 7 in the landscape installation industry, and at No. 201 in the consumer products and services category. Inc. Magazine rankings were based on the percentage of overall revenue growth over a three-year period. The Inc. Magazine list represents a comprehensive look at the most important segment of the American economy—privately held small businesses.
In the last three years, these top 5000 companies have helped sustain the economy by creating 370,592 jobs. ""It's all about the skill, dedication and hard work of a great team and developing strong relationships with clients," said Bill Dear, Principle of Dear Garden Associates. "We are very fortunate to have such a talented group of individuals working together to create such great spaces.  It is truly a special feeling to be able to offer clients high quality gardens and spaces tailored to their lifestyles," continued Dear.
Dear Garden's growth is a testament to the company's goal to create and maintain gardens of the highest quality. Dear Garden Associates, Inc. utilizes only premium quality plant and masonry materials. Plantings are carefully selected from local nurseries with adaptability to the native soil a high priority. Years of horticultural experience guide Bill Dear in the selection of the best performing plant species. Known for their outstanding design skills and masonry work, Dear Garden looks for products of the highest caliber. "We take great care with our gardens, and use only natural stone and true brick products," said Micah Mutschler, Dear Garden's Landscape Architect. "Another important element to our success," continued Mutschler, "is having all work performed by our experienced staff of individuals who are passionate about their craft. This ensures unsurpassed quality and attention to detail."
About Dear Garden Associates
Dear Garden Associates is a full-service landscape design and maintenance company. Centrally located in Pipersville, Bucks County, Pennsylvania, the company's service area has grown to include Eastern Pennsylvania and all areas of New Jersey. Known throughout the region for breathtaking landscape design, Dear Garden's core values include reliability, accessibility, and sustainability. The range of professional staff includes those skilled in horticulture, garden design, landscape architecture, and administration. Dear Garden also maintains five installation crews and two maintenance crews experienced in planting, earthwork, masonry, lighting, and irrigation. For more information, call 215-766-8110 (Pennsylvania) and 609-919-0050 (New Jersey) or visit our website http://www.deargarden.com
###