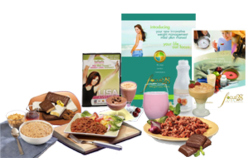 The Sexy Skinny Fit Diet Mini Kit is easy and effective! The new Mini-Kit gives people a perfect opportunity to start and stick to your weight loss New Year's resolution in 2012."
Tarrytown, NY (PRWEB) December 28, 2011
Focus28 is announcing a new addition to their line of diet products in honor of the fast approaching New Year. The "2012 Sexy Skinny Fit Diet Mini-Kit" is a sampler combination of several of their more popular products, offered at discounted price inspired by those committed to making weight loss their resolution in the upcoming New Year.
Mitch Suss, CEO of Focus28, says "This new mini-kit is a great way to give people a simple and non-threatening way to accomplish their New Year's goals, and not charge them an arm and a leg! It gives you all of the essentials you need to start a healthy high protein diet and begin a simple 10-minute per day exercise routine."
According to CNN.com, over 50% of Americans will make a New Year's diet resolution. One of the most popular New Year's resolutions in recent years has been to lose weight. Statistics show that 75% of people who make a resolution will be successful for one week. After one week, the success rate drops to 40%-50% over six months. After six months, the success rate for those who stay committed to their New Year's resolution plummets to 12% through the end of the year.
The Sexy Skinny Fit Diet Mini-Kit comes with 7 servings of high protein breakfasts, snack bars,
dinners and desserts; 28 servings of food total. For first time purchasers, the kit also includes the Iso-Towel 10-minute workout DVD, a shaker cup, the Focud28 Recipe E-Book, and the Focus28 Meal Plan Manual E-Book at no additional cost.
The creator of the Iso-Towel workout and co-founder of Focus28 Lisa A. explains, "The Sexy Skinny Fit Diet Mini Kit is easy and effective! The new Mini-Kit gives people a perfect opportunity to start and stick to your weight loss New Year's resolution in 2012."
The Sexy Skinny Diet Mini-Kit is available with enrollment in Focus28's new auto-ship program for $39.00 plus shipping. For more information about Focus28 and their high protein weight loss products click here.
###