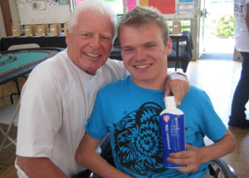 I don't want children to suffer what I went through with poor nutrition, says Passion 4 Life liquid vitamins & minerals' founder, Charles Van Kessler
San Diego, CA (PRWEB) December 27, 2011
Passion 4 Life liquid vitamins & minerals is donating liquid vitamins to US children in desperate situations through their charity, Passion 4 K.I.D.S. (Kids In Desperate Situations).
"One of the paraplegic children that we donate vitamins to told us that when he takes Passion 4 Life it feels like 'fire running through my veins' and greatly increases his stamina during his workouts", says
Charles Van Kessler, founder and creator of Passion 4 Life. "We are proud as a company to give back particularly to children since I was raised in a state run orphanage in Amsterdam, Holland during World War II and survived on eating flower bulbs enduring every abuse possible. I don't want children to go through what I went through."
Passion 4 Life contains 135 high quality whole food based ingredients, including all essential vitamins, 74 trace minerals, antioxidants, amino acids, mangosteen, acai, noni, goji, resveratrol and much more with each ounce based in 3000 mg. of organic aloe vera. It contains no caffeine, no gluten, no wheat, no soy, no dairy. Additionally, even though it has no added or refined sugar or artificial sweeteners, Passion 4 Life has been able to conquer the challenge of taste by developing a proprietary flavor that is so delicious even kids ask for more. It is now a pleasure to take your liquid vitamins.
Because of its founder's tragic background and heart for children, Passion 4 Life founded and supports Passion 4 K.I.D.S., (Kids In Desperate Situations), a 501 (c) (3) non profit that works hands on with children in desperate situations and that are neglected, homeless, abused or abandoned.
###