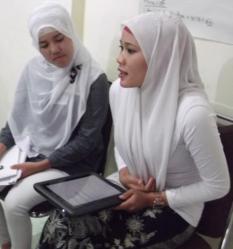 The value of behavior changes in communities that received health education is immeasurable -- women felt empowered and therefore children are impacted in positive ways as well," said Dr. Nasaruddin Sheldon, Project HOPE Country Director in Indonesia.
Millwood, VA (PRWEB) December 23, 2011
Maternal and Child Health Programs Empowering Communities for Better Health
Global NGO Project HOPE says health education has been the driving force in rebuilding healthy and stable lives for women and children in post-tsunami Indonesia, and in helping to reconstruct a shattered health care system, as the country remembers the disaster that washed over the region seven years ago on December 26.
A staggering 226,000 people were killed when a tsunami, triggered by a 9.15-magnitude earthquake, struck Indonesia's Aceh Province on Sumatra Island on December 26, 2004. It was seen as one of the most devastating natural disasters in recent history as over 1.7 million people were displaced in the worst affected countries - Indonesia, India, the Maldives, Sri Lanka and Thailand.
"The region's health care system was already in disrepair after 30 years of civil war which made it difficult for many to access nation-wide health initiatives. The tsunami compounded the problem, exposing women and children to a crisis in health care," said Dr. Nasaruddin Sheldon, Project HOPE's Country Director in Indonesia.
Project HOPE, a global health education and humanitarian assistance organization, responded to the humanitarian crisis by sending more than 200 medical volunteers aboard the United States Navy hospital ship USNS Mercy, as well as donating more than $7 million in medical supplies and medicines.
Again in 2006, when an earthquake hit Indonesia's Central Java region, HOPE responded with a Mobile Health Caravan that traveled to remote areas to provide pediatric care, psychotherapy, physical therapy, health worker training, and data collection and surveillance.
In Aceh Province, one of the most underserved areas of Indonesia due to its geographic inaccessibility and the impact of the 2004 tsunami, HOPE programs have improved the health of women and children in two sub-districts by expanding access to quality maternal and child health services through the promotion of healthy behaviors.
The Big Lottery Fund, a grant-making public body in the United Kingdom awarded Project HOPE a grant in 2007 to implement a maternal and child health project in Aceh Barat. The project, which ends in February, was implemented in 68 villages, addressing the health needs of over 8,500 women of reproductive age and 3,622 children under the age of five.
"HOPE's health education efforts in Aceh Barat have strengthened morale in this community after the tsunami destroyed many lives. People truly value their health now more than ever. This project has strengthened health providers' knowledge and skills in promoting and supporting improved immunization systems, and improving the quality of maternal health services while building the capacity of village health committees, health posts and other community-based organizations and individuals, including village midwives, health attendants and community health workers," said Dr. Sheldon.
In Nagan Raya, HOPE's Child-to-Child program, also sponsored by the Big Lottery Fund, has trained elementary school teachers on common infant, child and maternal health problems and desired health behaviors. The teachers in turn teach their fifth-grade students the same health lessons, which are then shared with siblings and other family members at home to improve health knowledge. The importance of early and exclusive breastfeeding, management of diarrhea, malaria treatment, growth monitoring and nutrition, acute respiratory infection, immunization and personal hygiene are among the topics covered at school.
Almost 90 percent of 143 elementary schoolsl in Nagan Raya implemented the program, reaching more than 2,600 fifth-grade students. This health education model was expanded to all elementary schools in Nagan Raya as decreed by the District Education Office.
Midwife training has had much success in teaching midwives how to handle problems in newborns including low-birth weight, respiratory infections and early signs of infection. HOPE trainers also educate midwives about exclusive breastfeeding and the necessity of delivering with a skilled birth attendant.
Project HOPE successfully trained over 100 midwives and 72 traditional birth attendants, vastly improving the chances of a healthy birth and the overall health of the mother and child.
"The value of the behavior changes in communities that received health education is immeasurable – women felt empowered and therefore children are impacted in positive ways as well," said Dr. Sheldon.
About Project HOPE
Founded in 1958, Project HOPE (Health Opportunities for People Everywhere) is dedicated to providing lasting solutions to health problems with the mission of helping people to help themselves. Identifiable to many by the SS HOPE, the world's first peacetime hospital ship, Project HOPE now provides medical training and health education, and conducts humanitarian assistance programs in more than 35 countries.
###