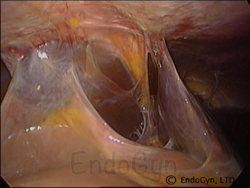 My daughter's life was medically relegated to one that would be endured, not lived. Thankfully, we never stopped searching for an answer to the true cause behind her debilitating pain.
(PRWEB) December 29, 2011
Adhesion Related Disorder activist, Karen Steward, today shared concerns voiced by the American Gastroenterological Association (AGA) about a new study that reveals an increase in opioid pain medication prescriptions for patients with chronic abdominal pain.
According to a new study published in the Clinical Gastroenterology and Hepatology, the official journal of the AGA, prescriptions of opioid painkillers for abdominal pain doubled in U.S. clinics between 1997 and 2008. Steward warned that the AGA study may have dangerous implications for patients with undiagnosed abdominal adhesions.
"As doctors prescribe potentially addictive opioid medications for chronic abdominal pain, the possibility that some of these patients are suffering from internal scar tissue (adhesions) may be overlooked," Steward said. Adhesions, bands of internal scar tissue caused by surgery, infection, inflammation or radiation, can block the intestinal tract and lead to life-threatening complications if the condition goes undetected.
In a December 1, 2011 AGA press release, the authors of the study proposed that doctors may lack the time and resources to approach chronic abdominal pain from an integrated perspective. If chronic pain seems incurable, doctors may prescribe opioid pain killers to relieve their patients' discomfort. A growing emphasis on the importance of pain control may also motivate physicians to prescribe opioids, the authors stated.
The authors of the study cautioned that prescribing opioid pain medications may worsen abdominal discomfort by causing side effects like nausea, vomiting and constipation. Ultimately the use of opioid pain killers may lead to abuse or misuse of these medications and make abdominal pain worse, the authors said.
"Because X-rays, CT scans, ultrasounds, barium studies and other standard diagnostic procedures may not reveal the cause of ongoing discomfort, pain management may seem like a doctor's last resort," Steward said. "Doctors who are treating patients whose chief complaint is abdominal pain should keep in mind that adhesions cannot be detected by standard diagnostic tests. Exploratory surgery is the only sure way to detect the presence of internal scar tissue. "
Steward expressed concern that symptoms of bowel adhesions may masquerade as symptoms of constipation, a common side effect of opioid use. "Patients who suffer from obstructive intestinal adhesions may complain of bloating, gas, difficulty passing stools, nausea and vomiting. If doctors assume that some of these symptoms are caused by opioid-induced constipation, they may overlook the possibility of a bowel obstruction caused by adhesions."
"Doctors should rule out the possibility of intestinal adhesions before prescribing opiate pain medication to patients with chronic abdominal pain," said Steward, who searched 14 years for a definitive diagnosis for her daughter's debilitating abdominal pain, which turned out to be adhesions. "The potential risks of bowel strangulation or intestinal blockage are too serious to ignore."
###