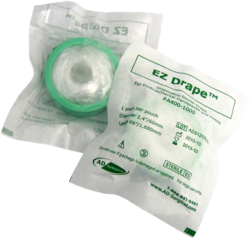 The EZ Drape is an easy to use sterile hose cover that saves time and money for the user.
Sunnyvale, CA (PRWEB) December 29, 2011
Today AD Surgical and its affiliated company Applied Dental announced the release of the EZ Drape®, an innovative infection control product that is designed to help maintain a sterile field for surgical procedures.
"The EZ Drape® is an easy to use sterile hose cover that saves time and money for the user. Simply insert the handpiece or other surgical instrument through the ring and pull the plastic sleeve down. The ring slides along the hose or cable in seconds and can be secured with the color-coded tape," said Dr. Brian Tang, President of AD Surgical. "Sterile drape covers help maintain a clean and safe surgical environment to prevent post-operative infections or patient cross contamination."
The EZ Drape® sterile hose cover is being introduced at $39.50 for a box of 24 packs. Each pack is individually sealed and sterilized by Ethylene Oxide (EO) gas, and has a shelf life of 3 years from the manufacturing date. EZ Drape® is latex free and has a ring diameter of 2.4" (66mm) and length of 66" (1680mm) to accommodate the hoses and cables used in surgical procedures. For more information or to purchase the EZ Drape®, please visit their website at http://www.ad-surgical.com or contact their customer service at (888) 841-8481.
About AD Surgical: As the prices of surgical products continue to skyrocket, surgeons are looking for more cost effective solutions without compromising quality. AD Surgical is a new unique company that provides the highest quality surgical essentials at the best prices. All of their products are designed and developed in the United States by a team of licensed medical professionals. 90% of their products are manufactured in their own manufacturing facilities, which allow them to offer top quality products at factory direct prices that are up to 80% lower than the prices of their competitors. More information is available at http://www.ad-surgical.com.
###