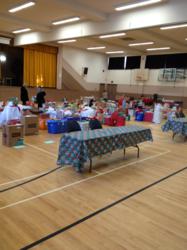 Fairfield, NJ (PRWEB) December 24, 2011
Dec. 23, 2011 – Employees of Archive Systems, Inc., a leading provider of business records and document management services, came together from across the continent to help stock pantries and prevent hunger in their communities. Altogether, the group raised over one thousand pounds of food and eight hundred dollars for local food banks and family services organizations.
"This is the first time we have organized a food drive across all of our facilities," says Christopher Bordiuk, Director, Human Resources at Archive Systems. "The food drive was entirely an employee lead initiative and we are very proud of our team for the generosity and compassion that they have shown for this cause."
The charities include soup kitchens, food pantries, shelters, food banks, after school programs and senior centers among others. Many of the people who use the resources at these facilities require temporary assistance due to a sudden illness, a loss of a job, or some other catastrophe; other people are in circumstances that require food banks just to get by all year round. The holidays are an especially difficult time for people and families in need and the charities require more donations than normal to keep up with the demand.
The Archive Systems' donations were distributed to food banks in the Community Food Bank of New Jersey and Norwescap Food Bank in Fairfield, NJ; North Shore Family Services and the Food Bank in Vancouver, BC, as well as the local Food Banks in Phoenix, AZ, Seattle, WA, Portland, OR and Chantilly, VA.
About Archive Systems, Inc.
Archive Systems offers a full range of services and solutions for organizations to manage physical and digital records from a single source. For documents stored both on-site and off-site, the company enables complete lifecycle management while addressing regulatory compliance, corporate governance and access to information for legal discovery. By uniting traditional records management services with cloud-based Virtual File Room technology. Archive Systems provides a bridge to a paperless future. Through this innovative approach, Archive Systems is changing the way the world manages documents. For more information, please visit http://www.archivesystems.com.
# # #