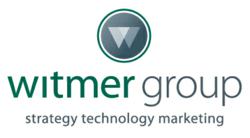 We are expanding to meet the increasing needs of our customers nationwide.
- Managing Director, Kristina Witmer
Dallas, Texas (PRWEB) December 26, 2011
Witmer Group (http://witmergroup.com/), has added Rebecca Wilson to its growing Social Marketing and Web Strategy division, enhancing their implementation solutions of online social marketing projects with an industry expert.
Wilson has more than eight years of experience managing projects in social media marketing, project planning, website and social media content optimization, website development, traffic analysis, analytics and reporting. Prior to joining Witmer Group, she was a consultant for small businesses and individuals developing social marketing strategies. Wilson is passionate about educating customers on the power of social media, metrics, quality content and customer engagement.
Wilson implements and executes ongoing online social marketing programs while supporting new and existing Witmer client relationships. She is a graduate of SMU's Cox School of Business and an accomplished amateur photographer.
Witmer Group is a Dallas based marketing agency that creates Social Marketing Strategy and assists in developing corporate marketing plans which includes social media planning and execution, content optimization, SEO strategies, online paid marketing, video production and web development.
Click here to learn about additional Witmer Group services.
# # #