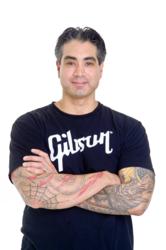 I cut thru all the confusion of approaching the guitar. I give you the tools you need to have fun and start jamming right away with songs you want to play, while at the same time teaching you the fundamental principles of the instrument.
Fort Lauderdale, Florida (PRWEB) December 27, 2011
Dyce makes learning the guitar fun. (How much fun are other resolutions—like signing up for the gym?) He provides direction, feedback and encouragement that truly make a difference. Beginning students progress much more rapidly than they would if trying to do it on their own. Meanwhile, intermediate and advanced players benefit from being challenged—and find that this top guitar teacher helps them better-connect their musical ideas.
Dyce's action-packed Fort Lauderdale guitar lessons get aspiring students learning real songs in no time—all while teaching them music theory and scales that connects the music to relatable, practical theory. Any time of the year, it's a hands-on way of learning the instrument that gets results.
Playing music—and taking guitar lessons with a true professional like Dyce Kimura—is the perfect New Year's resolution. Everyone knows that most people don't stick with their resolutions throughout the year. However, research has proven that people are more likely to stick with their resolutions when they 1) have a support network and 2) the resolution involves something that they actually enjoy. Dyce's guitar lessons combine both of these because Dyce provides a supportive, encouraging approach—and because his lessons are so much fun!
Dyce Kimura is one of the Miami area's premier musicians, and a top Christian Fort Lauderdale guitar teacher. Both adults and kids love his teaching methods, and style. He plays all the great classics that adults grew up with—and knows the tunes that kids are jamming on their iPods, too.
Dyce's career is taking off. In addition to his Fort Lauderdale guitar lessons, he's also launching a full video series, for both download and DVD. These videos, like Dyce's YouTube lessons, slice thru all the confusion that comes with approaching the guitar. Dyce's warm, personable teaching provides aspiring guitarists with all the tools they need to have fun and start jamming right away with songs that they want to play—all while learning the fundamentals of guitar and blues, the right way.
For more information on a New Year's resolution that you will actually keep, contact Dyce today.
# # #