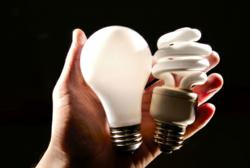 "...there are many different options for alternatives to the 100-watt and 75-watt incandescent bulb."
Sacramento, CA (PRWEB) December 27, 2011
Californian's have no need to overreact if they are fans of the original incandescent light bulbs for their nightly reading. According to the lighting experts at Lofings Lighting, a retail lighting institution in Sacramento for 50 years, there are many different options for alternatives to the 100-watt and 75-watt incandescent bulb. Not only are different lighting options that give off more light with less wattage, but there still is an inexpensive 95 watt incandescent version.
California has always been a pioneer in energy efficiency. California is actually one year ahead of the Federal regulations for lighting regulations geared toward reducing energy consumption, and greenhouse gas emissions. The 100-watt bulbs will no longer be able to be manufactured for the U.S. beginning in January 2012, but they stopped being shipped to California in January 2011. 2012 brings new regulations on the 75-watt bulb as well which will no longer be shipped to California as of January 2012. The Federal regulations on manufacturing of the 75 watt bulb won't kick in until January 2013.
We are creatures of habit and American's have become unnecessarily alarmed about the new lighting regulations, concerned because of the bad fluorescent options that have been marketed to consumers in the past. There are many higher quality options that are reasonably priced to replace the traditional incandescent bulb. The new regulations require increased efficiency of these bulbs. The lighting industry is reinventing the incandescent bulb to meet these requirements. There are halogen bulbs which look like the standard pear shaped A-19 bulb, and produce the same quality of light. A 72 watt halogen bulb will produce 1490 lumens, the same amount and quality of light as the standard 100 watt incandescent with a 28% energy savings. A new 95 watt incandescent bulb from GE can produce 1635 lumens versus 1490 lumens from a traditional incandescent bulb.
General Service bulbs are affected by these increased efficiencies regulations that are being mandated. For the average consumer, they are the 100 watt, 75 watt, 60 watt, and 40 watt medium base A-19 (pear shaped) bulbs. Specialty type bulbs like 3-way, decorative flame tipped bulbs and many more are exempt from these requirements.
Compact Fluorescents (CFLs) are still an alternative to incandescent. The quality of CFLs has greatly improved in recent years. "If you are concerned about finding an alternative similar to a traditional incandescent, look for lower "Kelvin temperatures" in the 2,700 to 3,000 range for "warmer" light which is closer to old-fashioned incandescent bulbs," explains Wendy Lofing-Rossotti of Lofings Lighting.
"The most energy-efficient, high quality bulbs available currently are the new generation of LEDs," explains Wendy Lofing-Rossotti of Lofings Lighting. "Manufacturers are taking the LED trend seriously and have started to design fixtures around the use of LED technology and maximize its lighting ability.
The new generation of LEDs are the most energy efficient form of lighting currently available. LED's have quick start up, good color quality, are dimmable, and produce significantly less heat. These are some of the reasons why customer satisfaction has been so high with LED lighting products. There is a big difference between consumers acceptance of LED's versus CFL's in the past. These new alternatives which have not been available until recently soften the blow of consumer reaction to mandated energy conservation. The use of LED's in lighting is a great advancement for the industry and these new LED replacement bulbs are just one facet of how LED's will be used in the future.
The goal at Lofings Lighting is to take care of the customer by providing quality lighting products and superior service. The family and their employees pride themselves on product knowledge and customer service which is the key to their 50 years of success.
About Lofings Lighting
Lofings Lighting specializes in quality residential and commercial lighting products, including fixtures, dimming systems, landscape lighting, ceiling fans, light bulbs, lighting parts and shades. The store carries a wide variety of styles, from traditional to ultra modern, and has hundreds of manufacturers at their fingertips, thus guaranteeing customer satisfaction. Lofings Lighting also is leading the way LED lighting and control systems and the staff is versed in the latest lighting technology. Lofings Lighting is a member of the American Lighting Association, Better Business Bureau (BBB), National Association of the Remodeling Industry, National Federation of Independent Businesses (NFIB), Midtown Business Association and more. For more information please visit http://www.lofingslighting.com
###