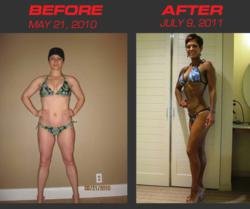 "A big thank you is owed to SAN Nutrition and everyone that has helped me make my dreams come true."
Evansville, IN (PRWEB) December 24, 2011
Award winning bikini competitor, Kimberly Castle, can now add SAN Nutrition Weight Loss success story to her long list of accomplishments. Castle took top honors in several NPC Bikini Competitions during the 2011 competition season. With the introduction of SAN nutritional support to here training and diet routine her physique is in the best condition it has been to date.
A few short years ago Castle was an "unhappy and very overweight traveling professional" who would have never guessed that she would be stepping on stage competing against many of the top fitness models in the world.
"My story is not unlike most busy professionals. I went from an overweight executive, working too many hours, eating out in restaurants and making all the wrong choices to a competitive bikini model. It is incredibly rewarding to know that I can help inspire other women who are in the same position I found myself in a few short years ago. With the inclusion of SAN Nutritional products into my daily regiment, I have experience changes in my physique that I never thought possible.
"A big thank you is owed to SAN Nutrition and everyone that has helped me make my dreams come true." Castle's first appearance of 2012 will be at the Arnold Classic, the largest fitness event of the year. "My dream would be to work beside many of my fitness mentors at the SAN Booth while at the Arnold Classic in addition to earning my IFBB Bikini Pro Card in 2012. Dreams really do come true you just have to believe in them,"
Be sure to visit the SAN Nutrition Booth at the Arnold Classic this coming March 1st through 4th. To let SAN Nutrition know you would like to meet Kimberly while you are there contact them by visiting their website: sann.net
SAN has become the most trusted company in the industry because of the positive results achieved by people who their products. They continue to do everything in their power to assist the muscle building, fat burning, and performance enhancing process for athletes around the world.
Besides dieting and training for her next competition, Castle is launching her Pink Panty Project, where all proceed are donated directly to the American Breast Cancer Foundation. To learn more visit http://www.kimberlycastle.com.
Kimberly is a health and wellness coach, owns her own health and wellness company called Epiphany (eio), is a national level figure/bikini competitor in Canada and the USA, former Miss Model of Canada, and works directly with Oxygenfit to promote a healthy lifestyle to women around the world.
Make 2012 your year to shine contact Kimberly today to jump start your weight loss goals.
###