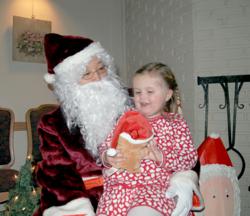 Vail, CO (PRWEB) December 24, 2011
Create everlasting memories this Saturday, December 24th at the Alpine Tavern in East Vail and enjoy free pictures with Santa from 4:30 to 7:30 with dinner.
Listen to live music every Friday and Saturday at the Old Muddy Bar. This Saturday, December 24th jam out with Christopher Hawley Rollers from 6 to 10pm.Check out Alpine Tavern's weekly music lineup in sneakPEAK Vail's premier weekly magazine.
The Alpine Tavern serves an eclectic menu of traditional American, French, German, and Italian. Paolo Bussi, head chef, constantly seeks new and unusual dishes, so you will enjoy the ever-evolving selections along with the traditional favorites.
The Alpine Tavern's wine cellar presents wonderful choices including reasonably priced Napa, Sonoma, Chilean, and other international wines. For the connoisseur they have an excellent selection of fine French and American wines.
The Alpine Tavern is not just Vail…..it's the best of Vail. They are located in East and are East Vail's only resort. They are located at 4695 Racquet Club Drive in East Vail. To make a reservation at the Alpine Tavern call 970-476-7888.
###