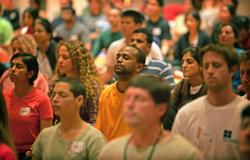 Isha Foundation- McMinnville, TN (PRWEB) December 25, 2011
Inspired by eager participation in its scholarship program for breast cancer survivors, Isha Foundation is extending its patient scholarships into 2012 and expanding it to include individuals who are recovering from cancer of any kind. The first Isha program to offer the new Cancer Survivors' Scholarship is "Be, Breathe, Blossom – Technologies for Wellbeing", a 3-day 'Inner Engineering Program' offering simple, but powerful yogic methods to bring about a deep state of meditativeness. This program will be offered by Isha Foundation founder, yogi and mystic, Sadhguru in Houston, Texas from May 4-6, 2012. (Venue TBA.) Cancer Survivors' Scholarships offer recovering patients and cancer survivors a scholarship of $60 toward the 3-day Houston program fee. These scholarships can be obtained by e-mailing Houston(at)IshaFoundation(dot)org.
"Cancer treatment can be very traumatic for patients and their families, both from a health perspective and an economic perspective," said Kalpana Rajdev, M.D., a family physician and President of Isha Foundation. "We are thrilled that patients and survivors of cancer are able to benefit so much from these scholarships, empowering them to receive a potent internal support system during one of the most physically and emotionally challenging times in their lives. The meditative process they receive in these three days is with them for life, supporting both their recovery and maintenance of health."
According the American Cancer Society, twenty years of research on meditation indicates that meditative processes offer significant mental and physical benefits for those with cancer. "Research shows that meditation can help reduce anxiety, stress, blood pressure, chronic pain, and insomnia," reports the ACS website. A 2008 study of those practicing Inner Engineering's primary meditative practice, Shambhavi Mahamudra, revealed an instantaneous response of nervous system function during just 21-minutes of practice. These results support a direct and immediate impact of Shambhavi in modulating the autonomic nervous system—the involuntary aspect of the nervous system that is responsible for the stress-response.
Derived from the ancient yogic system, an elaborate system of inner technologies over 10,000 years old, Inner Engineering is a powerful program created by Sadhguru to instill a deep sense of inner balance, joy and mental clarity. According to Sadhguru, health benefits attained as a result of Inner Engineering are the by-product of overall balance achieved within the system. "In yoga, when we say 'health,' we don't look at the body or the mind; we only look at the energy," Sadhguru explained in a recent Huffington Post article. "If your energy body is in proper balance and in full flow, your physical body and mental body will be in perfect health."
Many cancer patients who've taken Inner Engineering (IE) say that the program offered them a remarkable boost in emotional strength and a positive forward-looking perspective when they needed it the most.
"I have been through chemotherapy and radiation with all the side effects imaginable... I strongly feel that if I had not been doing the (Isha) practices, I would not have had this inner strength to deal with my situation the way I have," explained Chitra Karnani of Bloomfield, MI. "I still have some challenges left to be dealt with, but I remain mentally and emotionally strong and feel capable to cope with whatever comes my way."
Margie Hudnell of Dayton, Ohio felt that the Inner Engineering program helped markedly reduce the pain of her surgery and boost her recovery from treatment, as well.
"My recovery post-surgery was quite remarkable. Aside from the pain medicine provided in the recovery room following surgery, I did not have the need for further medication and my incision healed at least twice as quickly as normal as per my surgeon. I felt totally healed and so energetic that my family had to remind me to take it easy," emphasized Margie. "The traditional radiation and chemotherapies were discussed as was the Tamoxifen protocol, however I opted to not accept these recommendations pending my early diagnosis, clean margins from the lumpectomy, established yoga practice and inclusion of neem & turmeric (documented anti-cancer properties) into my vegetarian diet.
The medical team supported my decisions, being aware that my yoga practices and dietary regimen supported my immune system and natural healing of the body and having witnessed my remarkable postsurgical recovery. I attribute my continued 11 years cancer-free state directly to my Isha practice and the dietary recommendations provided as part of the program designed by Sadhguru."
Founded by Sadhguru 30 years ago, Isha Foundation is an international non-profit organization dedicated to cultivating human potential through the ancient yogic system. For more information about Isha Foundation, visit http://www.ishausa.org. For more information about Sadhguru visit http://www.Sadhguru.org. For more information about 'Be, Breathe, Blossom—Technologies for Inner Wellbeing' coming to Houston this May 4-6, or to apply for a patient scholarship, contact houston(at)ishafoundation(dot)org
An introductory video of the Inner Engineering program can be viewed at http://www.InnerEngineering.com
A free Isha meditation process can be experienced at http://www.IshaKriya.com Isha Kriya in itself is a powerful ongoing support for internal balance. This process, however, cannot offer all the benefits made available through the 3-day Inner Engineering intensive with Sadhguru.
###