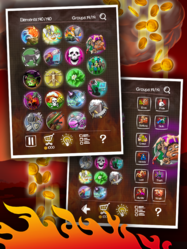 Russia (PRWEB) December 27, 2011
JoyBits Ltd. has finally released two highly anticipated games - Doodle Devil™ HD and fresh Doodle Devil™ with high quality performance and modern features.
JoyBits Ltd. shares each other's happiness and hopes for the upcoming Christmas and New Year. It is the time for merriment and no enjoyment is complete without friends. JoyBits thanks their followers!
A 2011 Christmas present from JoyBits Ltd. is finally here. Doodle Devil™ HD for iPad® is the game players have been waiting for. In the last two years, JoyBits Ltd. has been working hard to create an exciting release of this game with new features, based on customers' feedback and wishes. Developer hopes users will experience great time and hours of enthralling playing with it. JoyBits made this game just as perfect as players wanted. Enjoy it now on your iPad®.
Previous versions of Doodle Devil™ has been enjoyed by more than 55 million of players, and have ranked up glowing reviews and impressive accolades by customers all over the world. Doodle Devil™ game managed to achieve the strong results through its live line from the beginning to the present. JoyBits' progress was awarded in the Top50 of best-selling Overall Games & Apps of 2011 by Apple.
The new editions are fully localized into no less than 6 languages: English, German, French, Spanish, Italian and Russian. Furthermore, games have full support for glorious performance, and from a gameplay perspective, they are packed with new modes of play, features, options, and plenty of items and upgrades.
 
The goal of the games is to destroy everything in the universe. By using the four basic elements player set out to discover the seven deadly sins on users' quest to total destruction, and there is no turning back once play has begun.
 
Excusive in new Doodle Devil™ versions is the Official Elements Guide. The pentagram feature which has only recently appeared in the previous game's version was reviewed and presented in a new form. Games are also feature a new Main Menu interface with update options and extended gameplay functionality. Virtual currency in the form of coins can be used in the Devil Slots minigame to let players taking a break and getting more mirthful moments and impressions. Customers can create more than 190 elements, use a Wikipedia support, get achievements and view Leaderboards via GameCenter.  Furthermore a newest Hints structure is presented in both Doodle Devil™ HD and Doodle Devil™, it allows to use hints any number of times and any time users need.  Doodle Devil™ has plenty to offer existing, as well as new fans of JoyBits' games.
Doodle Devil™ HD is available from the App Store here: http://ow.ly/85GLZ
Doodle Devil™ is available from the App Store here: http://ow.ly/85IGD
Hotlinks:
JoyBits Website http://www.joybits.org
Game Website http://www.doodlegod.com
Facebook http://www.facebook.com/doodlegod
Twitter http://twitter.com/#!/joybitsmobile
# # #