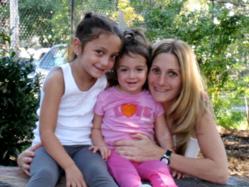 This is an opportunity for people to really make a difference in the lives of two beautiful, innocent little girls who will never see their parents ever again.
New York, NY (PRWEB) December 27, 2011
As the holiday season nears its festive peak, most children in Old Bridge, New Jersey and across the country go to bed dreaming of the wonderful toys they'll soon play with, the tasty treats they'll eat, and how much fun they'll have with friends and family. That's most children. But not Emma Trapp, 5, and her infant sister Sophia Trapp, 20 months. They won't be celebrating anything this year, and probably, for many years to come. That's because on December 15, these two beautiful girls were shockingly and suddenly orphaned when their mother Heather Newman was murdered by their father, who later committed suicide.
And while Little Emma and Sophia are lovingly being cared for in Staten Island by their maternal grandmother Francine Serota Newman and their maternal aunt Jamie, the financial strain is difficult to bear for these hard working, decent and middle-class women who are also recoiling from the horror, shock, anger and grief of this unspeakable tragedy.
"The last thing we want to do is ask people for financial help," Francine and Jamie stated after establishing The Heather Newman Fund for Emma and Sophia Trapp, which is collecting funds that will go directly towards raising the girls. "But to put our pride ahead of what's best for Emma and Sophia would be wrong. These two beautiful little girls have just had their whole world ripped apart. Our hearts break just thinking about it, and the only thing that keeps us from collapsing into our own grief and anger is the knowledge that we have a very important job to do -- we need to take care of Emma and Sophia the best we can. And if that means we ask for financial help from anyone and everyone who can find it in their heart to help, then we will – and we'll accept every cent with enormous gratitude. This is an opportunity for people to really make a difference in the lives of two beautiful, innocent little girls who will never see their parents ever again. We hope that people who hear this story won't miss this chance to make such a big difference at a time when their generosity is needed the most."
To date, The Heather Newman Fund for Emma and Sophia Trapp has received a little over $60,000 in donations, with a goal of reaching $100,000 before the end of the year. The shocking tragedy has also received widespread media attention, and folks from all walks of life have left more than 100 comments on the Fund's donation page.
"The days are running short and we might not make our $100,000 goal by the end of the year," commented Philip Simon, a close friend of the family who is tirelessly helping coordinate donation and awareness-raising efforts. And $250,000 by June 2012. Portions of the donations will be used to help other families who have unfortunately experienced domestic violence in their lives which are the wishes of the Newman's. "But I have a tremendous amount of faith in humankind, despite what happened on December 15. I know there are many people who will learn about Emma and Sophia, and will find it in their hearts to help. They don't have to donate thousands or even hundreds of dollars – although that would be wonderful. Even $25 or $50 is enough for someone to say: I didn't know these little girls and I will probably never meet them, but I just knew that I had to help, and so I did."
Those who can find it within their heart this holiday season to help can make their donation to the Heather Newman Fund for Emma and Sophia Trapp at https://www.wepay.com/donations/emma_and_sophia_trapp_1.
The Fund also has a new store page where people can donate goods for sale, and buy items donated by others. All proceeds go to the Fund. https://www.wepay.com/stores/the_heather_newman_fund_store_for_emma_and_sophie.
Donations can also be via by check made payable to Francine Serota Newman ITF Emma and Sophia Trapp. Checks can be mailed c/o Philip Simon, 73 Old Dublin Pike #10/305, Doylestown, PA, 18901.
For more information or media inquiries, contact Philip Simon at phsimon(at)ix(dot)netcom(dot)com.
###