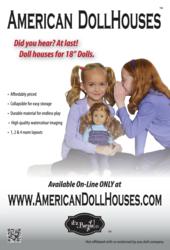 Chicago, Illinois (PRWEB) December 25, 2011
It'z Purple, LLC has been dealt an unexpected setback to their company's launch of its American DollHouses for 18" dolls with two upscale high volume malls refusing to place contracted ads by It'z Purple. The founder, Kathy O'Brien, received a call informing her that the mall ads were not going to run as contracted on November 15, 2011 for the Holiday shopping season in the Dallas and McLean, Virginia malls.
Kathy O'Brien stated, "I was shocked when I received the call. I was informed that my ads would not run in the two locations because they had been deemed 'offensive' by the malls' advertising firms."
"I couldn't quite understand how my ads of two little girls dressed in purple could be deemed 'offensive to Mattel' and therefore be refused by Dallas and McLean malls. It was explained that the company handling the mall advertising had concerns that the ads "would 'offend' Mattel, an anchor tenant, and they didn't want that to happen, so they refused to place the ads because they were 'offensive'," said O'Brien.
According to the founder, Kathy O'Brien, the locations were carefully selected based on their target market. "I was looking for locations that had a number of our potential buyers. Specifically I looked for stores that my consumers would typically shop at including Pottery Barn Kids, Disney Stores, American Girl, Gymboree and/or Apple locations nearby."
It'z Purple had interviewed a number of agencies that specialize in national mall advertising campaigns during the summer. Sullivan Media was selected in July 2011 for securing American DollHouses Christmas advertising slots for its November 15, 2011 launch date for the new dollhouse line. By August, contracts were secured for seven mall locations across the United States. Six of the seven locations had a Mattel presence with American Girl stores located near or within them. Four of the remaining malls with Mattel presence ran the ads as contracted, including Denver, Kansas, Washington State and Massachusetts.
"Every new business must find a way to inform consumers that they exist. It'z Purple had elected to invest in the companies branding and market awareness from day one. We carefully selected seven locations throughout the USA for this purpose. All the mall advertising firms were informed prior to mall contracts the nature of the ads and company information. If an issue existed it should have been raised prior to the contract acceptance. Losing two of our seven mall locations will have an impact on our sales. Inventory was ordered based on these locations being secured."
Seeing a need in an untapped market, It'z Purple, LLC, launched American DollHouses, designing an innovative, collapsible doll house system, that are "Made in America", for children who own 18" dolls, like American Girl, Goetz and Disney's Princess and Me. It'z Purple, LLC, felt that large toy markers were missing the mark by not addressing the need for a large scale dollhouse system for 18" dolls. American DollHouses have been receiving an enthusiastic welcome but is frustrated with what appear to be unfair marketing practices within the malls. It'z Purple, LLC is a new 2011 start up company developing mom friendly dollhouse systems for 18" dolls.
###