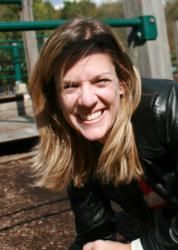 Don't shop small because you "should." Feel free to do it for selfish reasons.
Wilton, CT (PRWEB) December 26, 2011
Megan Abrahamsen owns of Blue Star Bazaar - a small online boutique with unique gift ideas. She has posted an essay on the consumer benefits of "shopping small." An excerpt is below. You can read the entire article at Wilton Patch. Consumers can "shop small" at Blue Star Bazaar and save 20% through 1/15/12 with code NEWBLUE.
Shop Small. Buy Local. I keep hearing and reading these phrases. Usually those encouraging shoppers to do so explain the importance of keeping dollars in local communities. Yes, this is a noble goal. However, people vote with their dollars every day for the products and businesses that provide the greatest value. I would like to let consumers know that shopping local is not just good for the community and the shop owner. In fact, in many cases, it's the best option for the customer as well.
Here are a few examples of how small businesses often provide the best value and service:
Fair prices: Although small businesses may not negotiate low prices for huge quantities, most of them generally set fair prices. For example, I carry a line of watches. Some large catalog companies (Garnet Hill and Sundance) sell the exact same watches. I find that the catalogs actually set prices about 20% higher than I do. Perhaps it's because they plan to run 20% off coupons throughout the holiday. Perhaps it's because they have high production costs for their catalog. The point is small businesses often have fair everyday pricing. Believe me; I love a sale as much as the next gal. However, it just might make more sense to pay the fair price when you need something rather than pay the cheap price when you don't.
Unique goods: You're not going to find a table packed with 300 t-shirts in twelve colors at $10 in an independent shop. The good news is you're not going to see half the people you know wearing the same t-shirt you bought in the independent shop. Small business owners shop for their local customers. Most of us (small business owners, that is) try to find things that are unique for the people we've built relationships with. We can even sell some things that are handmade in the USA from other small companies (that could never accommodate the quantities required by big companies). When I worked for large retailers, some of the words tossed around for products were "universal" and "democratic." "Wow, this outfit is so great because I can share it with my daughter and my mother!" Small business owners are not trying to find goods that everyone will like across 1000 stores – they're trying to find things that their select customers will LOVE.
Flexible policies: Large companies need to set consistent protocol across their stores. There are no special exceptions. It makes sense; you can't tell a sales force of thousands to just "use your best judgment." In a small store, there's a good chance you're dealing directly with the business owner who is the one person completely authorized to make exceptions. Are you a loyal customer? Maybe she'll let you take three pillows home and select which one looks best on your couch before paying. Did you just buy Christmas gifts for your six nieces and nephews? Maybe she'll take 20% off that pair of earrings you want to add for yourself. It's ok to ask to ask for exceptions. Some rules are meant to be broken.
Superior Service: Small business owners know how valuable a customer is once they've found one. We'll do whatever we can to keep you coming back. We'll gift wrap; we'll stay open late just for you if you make an appointment; we'll drop a package off locally; we'll contact our manufacturers for special orders. Every shop owner can be considered your own personal shopper. If you call a business and say," I have a cocktail party tonight and need black pumps in a size 7. Can you pull 3 pairs for me to try on? I only have 5 minutes," I bet they'll be waiting to open the door for you when you get there – pumps in hand. If the request is reasonable, most likely a business owner will try to accommodate you.
I'm not asking you to support your small businesses. I'm encouraging you to ask them for their support. Don't shop small because you "should." Feel free to do it for selfish reasons.
About the Company: Blue Star Bazaar, founded in 2010 by Megan LaBant Abrahamsen, is an online retailer of unique gifts for women and kids. For those looking for unique gift ideas, Blue Star Bazaar offers a range of products that meet the tough standards of quality, individuality, style, and value. Product categories include jewelry, scarves, watches, handbags, t-shirts, toys, and home accessories. Find the perfect gift at Blue Star Bazaar, headquartered in Wilton, CT.
# # #