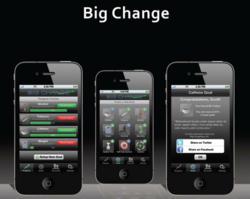 Mobile apps like Big Change are taking advantage of recent innovations in technology that enhance one's ability to track and evaluate personal goals," M. Richard Hodges
Atlanta, GA (PRWEB) December 29, 2011
Kaizen Qualities LLC, the creator of the Big Change app, is predicting that there will continue to be a shift in the resolutions that people set for 2012 as fewer people try to quit smoking and more people focus on personal growth and relationships. Weight loss and increased exercise activity will continue to be areas of focus. Additionally improving personal balance sheets through better personal finance will remain high on the list of resolutions and goals.
The number of people that use tobacco products has significantly declined over the past decade, and it is expected that while the percentage of smokers who will resolve to quit smoking should increase, fewer people in total will make this a resolution for 2012. Meanwhile the "obesity epidemic," as it is often referred to, continues to plague the majority of the United States and public awareness campaigns will continue to drive people to make lose weight and exercise more top resolutions.
According to the Federal Reserve Board update of December 13, 2011 consumer debt has declined to levels not seen since 1994. Housing prices also appear to have stabilized at pre-bubble levels. Unfortunately hiring forecasts remain gloomy. Due to these three factors, it is expected that people will resolve to keep spending on discretionary items low although many will make buying a home their resolution for 2012. With quitting smoking as a resolution falling out, focusing on self-improvement and spending quality time with family and friends will make it into the top 5.
The tradition of New Year's resolutions dates back to around 150 B.C. and is associated with Janus the mythical two faced Roman king who could look both to the future and backwards in time. Nearly 20% of all Americans are expected to make a resolution for 2012. Historically popular New Year's resolutions have remained pretty consistent with only the rankings changing from year to year and new goals replacing older goals over a much more gradual rate. This can be seen as quitting smoking declines and newer goals like spending less time using Facebook increase in popularity. Kaizen Qualities LLC took this into consideration when it developed its Big Change app allowing users the flexibility to set up to eight preset/popular goals and one customizable goal using the app. "Mobile apps like Big Change are taking advantage of recent innovations in technology that enhance one's ability to track and evaluate personal goals," said M. Richard Hodges, author of Goaltending: Best Practices for Success with Setting and Achieving Personal Goals. "What people need in today's fast-paced world is the ability to objectively, automatically, and conveniently account for and monitor their progress. And because a smart phone is always with you, your goal is capable of always being with you, and that is an important factor in achieving success." Big Change was recently reviewed and recommended in "Set your New Year's resolutions with these iPhone Apps" on Appolicious.com.
About Kaizen Qualities
Kaizen Qualities LLC, creator of the Big Change suite, is a company dedicated to improving people's quality of life. The Big Change mobile app is available for download in the iTunes App Store. The complementary website and Facebook page make Big Change one of the first productivity apps designed specifically for achieving goals to incorporate all 3 tools effectively. Built primarily as an app for iPhone®, Big Change's innovative functionality allows users to have both the technological and social support that fosters successful goal achievement. The company, a recent startup, seeks to incorporate traditional and new media in a manner that makes its customers highly effective in the pursuit of their goals, achievement of New Year's resolutions, and breaking non-productive or harmful habits. For more information visit: http://www.bigchangeapp.com.
###