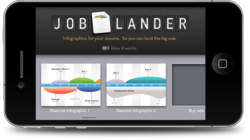 JobLander App is a powerful tool for a recruiter that gives their candidates a competitive edge.
New York, NY (PRWEB) December 27, 2011
Finding a job in this economy is just as hard as determining the right candidate for the position. With the hundreds or thousands of applicants vying for the same employment opportunity, recruiters definitely have their work cut out for them. Professional recruiters and staffing agencies have been struggling to get their most qualified candidates to rise above the competition. JobLander improves every point of the human resource chain – helping recruiters place candidates, making candidates look their best, and making it easier for employers to evaluate candidates. JobLander is currently talking to recruiting firms to discuss the possibility of a strategic partnership. "JobLander is a perfect fit for a professional recruiter looking to make their candidates' resumes stand out in this impossibly competitive job market," stated GP Miller of SparkRiver, the company that developed the app.
JobLander, available in the iTunes Apps store, is a great fit for staffing firms and recruiters alike. This revolutionary app is designed to create unconventional resumes that stand out from the competition. Instead of lengthy pages of mundane text, resumes are transformed into easy-to-understand infographics of work experience, career growth, and educational background.
"As a strategic partner, a recruiter could have the ability to brand the app as their own. Using the app will not only make applicants stand out; it will also make the recruiter's company stand out as innovative and forward thinking," continued Miller. Companies interested in becoming a strategic partner have been contacting SparkRiver, the creators of JobLander, at http://www.JobLander.co or http://www.SparkRiver.co.
In the spirit of the season, SparkRiver has extended its special offer to jobseekers to download JobLander free of charge. "No one wants to be out of work for the holidays. We recognize that so we're helping pitch in," stated Miller.
About JobLander:
JobLander is available for iPhone and iPad in the App Store. It was developed by SparkRiver, a digital innovation firm located in Boca Raton, FL that creates breakthrough apps. The team at SparkRiver are veterans of the advertising and tech industries. They provide strategy, marketing, and technology solutions. Learn more at http://www.JobLander.co and http://www.SparkRiver.co.
# # #