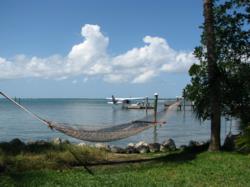 Once aboard Key West Seaplanes, your tropical getaway begins...
Key West, FL (PRWEB) December 28, 2011
Key West Seaplanes is featured in FLYING Magazine with a story recognizing the company's long-established private seaplane charter service to the exclusive Little Palm Island.
In this most prestigious aviation magazine, the amazing journey from Key West to a private island getaway via private seaplane is told by Les Abend, an accomplished 777 Airline Pilot also wishing to begin his escape from a corporate flying job to that of flying for Key West Seaplanes in the most magical of all aircraft...the seaplane.
As the region's premiere provider of private seaplane charter services, Key West Seaplanes flies direct from all points on the mainland via their private seaplane charters to Little Palm Island, hidden away in the tropical Florida Keys. The company's service to this amazing destination has now been recognized by FLYING Magazine as an "Airline Pilot Fantasy" in an article profiling the seaplane company, it's owners and their ability to transport it's passengers to an escape unlike any other.
This recognition by FLYING Magazine comes to Key West Seaplanes as the seaplane charter company begins yet another winter season of transporting winter-weary travelers from all points on the mainland to Little Palm Island (listed on Conde' Nast Traveler's "Top 100, The Best in the World" list) as well as other amazing tropical getaways such as Hawks Cay, Cheeca Lodge, The Moorings and all points in The Florida Keys and Key West. The company also provides local aerial Key West seaplane tours originating in Key West.
In addition, Key West Seaplanes provides full private seaplane charters to The Bahamas and Caribbean. The company's seaplanes are amphibious, thus allowing them to land on water as well as land. Other aircraft in the fleet include options for conventional, wheeled aircraft in addition to full seaplane charter services.
The overwhelming popularity of Key West Seaplanes' charters to private and uninhabited islands and sandbars has also prompted this established seaplane company to offer Key West seaplane weddings- often with just the happy couple, seaplane pilot (who can also perform the ceremony) and one or more of the company's gorgeous seaplanes on a lazy and quiet beach.
Owners, Julie Ann Floyd and Nikali Pontecorvo are long term Key West residents with 30 years of combined experience flying The Keys, all Florida as well as The Bahamas and Caribbean. They enjoy sharing their extensive experience and knowledge with guests yearning to explore beautiful tropical locations via seaplane.
The company also plans to expand seaplane charter services into Cuba in the new year.
# # #