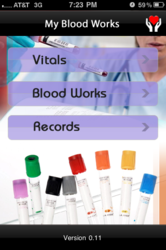 "Finally,one place to store and easily access/update Medical information", says Kristin David-Schneider who has "My BloodWorks" APP on her IPhone.
(PRWEB) December 29, 2011
Recently released medical app "My BloodWorks" is a friendly, yet powerful tool toward tracking anybody's health thru blood tests and vitals. The Blood Works Screen is set up to slide the page back and forth for easy comparison to previous blood tests. If there is not a blood value on the Blood Works screen "My Bloodworks" allows for an unlimited amount of blood values. With the ability to e-mail blood results, the end product is an easy readable spreadsheet.
Other features on "My Bloodworks" are a screen for blood Pressure, pulse and weight that have their own graphs. Feature's include keeping medications listed on a screen that allows for easy access and adding of details. Appointments have their own screen as well as a screen for emergency phone numbers that dial from that screen. The last screen is for medical events for easy access called "Records." All values in "My BloodWorks" are date stamped.
All information within "My BloodWorks" is stored in the app only. The Developer nor any third party have access to "My BloodWorks" App. Always consult a Physician.
# # #