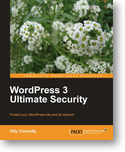 Birmingham, UK (PRWEB) December 27, 2011
WordPress 3 Ultimate Security will enable readers to lock down their entire network from the local PC and web connection to the server and WordPress itself. Written by Olly Connelly, this book will teach readers to back up and secure their content, understand disaster recovery and to use the best-of-breed tools, code, modules, techniques and plugins to insure against attacks.
WordPress is a free and open source blogging tool and publishing platform powered by PHP and MySQL, which is often customized into a content management system (CMS). This mature and stable product is the official successor of b2/cafelog, and can be completely customizable to be used for almost anything.
WordPress 3 Ultimate Security starts off by guiding users to uncover the weaknesses of their websites before sealing them off, securing their content and day-to-day local-to-remote editorial process. Furthermore, it will allow users to survey their network, using the insight from this book, and to scan for and seal the holes before galvanizing the network with a rack of cool tools.
Using this book, developers will not only learn the dangers of wireless connections, but will be able to maximize their router's protection and use public WiFi hotspots safely. Moreover, they'll discover the use of the toughest internet protocols to connect to their server, site and files with military-strength encryption, in addition to being able to hide their Dashboard and other sensitive web files by using code, plugins and Apache modules.
Packed with multiple screenshots and detailed explanation, this book is ideal for security novices as well as web professionals alike, who wish to transform an insecure site into an iron-clad fortress, to safeguard their site users and content. The book is available from Packt. To read more about it, please visit: http://www.packtpub.com/wordpress-3-ultimate-security/book
# # #